CAIRO, Nov 8 (Aswar Masriya) - The Egyptian pound weakened further against the dollar on Tuesday, reaching a high of 18 pounds in some banks three days into the adoption of the interbank mechanism to set the exchange rate.
Egypt's central bank set an initial guidance rate of EGP 13 to the dollar when it announced floating the currency on Thursday, before allowing the supply and demand mechanism to set the price starting Sunday without its guidance.
The dollar at the Export Development Bank of Egypt was being sold at EGP 18.10, while at the Abu Dhabi Islamic Bank (ADIB) it was selling at EGP 18.
Dollars were sold in Al Ahli Bank on Tuesday at EGP 17.85 compared to 17.25 a day earlier, while rates at Banque Misr jumped to EGP 17.86 from EGP 16.85.
Egypt's largest listed bank, the Commercial International Bank (CIB) had the dollar sold at EGP 17.95 up from EGP 16.75 on Monday.
Reham al-Dosouky, Senior Analyst at Arqaam Capital, said that it is likely the exchange rate could reach EGP 19 to the dollar this week.
"I do not rule out the possibility of banks raising the rate to EGP 19 to the dollar in order to attract dollar inflow from the black market," al-Dosouky said.
The pound previously traded on the black market with the rate of EGP 18 to the dollar days before the central bank announced its decision to float the pound.
Central Bank Governor Tarek Amer said in a press conference on Thursday that banks would have entire control over setting the exchange rate through the interbank mechanism.
The interbank depends on the foreign currency liquidity that each bank has and based on that the banks set the selling and buying rates of the foreign currencies.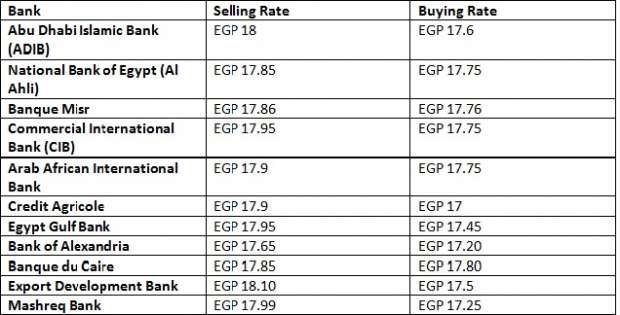 Dollar rate on Nov. 8, 2016