A customer counts his U.S. dollar money in a bank in Cairo, Egypt March 10, 2016. E REUTERS/Amr Abdallah Dalsh/
CAIRO, Nov 6 (Aswat Masriya) - Egyptian pound weakened against the dollar in the first day of interbank dealing after the government abandoned its US dollar peg last week.
Egypt's central bank set an initial guidance rate of EGP 13 to the dollar when it announced floating the currency on Thursday, before allowing the supply and demand mechanism to set the price starting Sunday without its guidance.
The Al Ahli Bank was selling dollar on Sunday at EGP 15.75 compared to 15.60 a day earlier, while rates at Banque Misr jumped to EGP 16 from EGP 15.05.
The Arab African International Bank was bidding for dollar at EGP 15.90 after it closed at 15.75 on Saturday, while rates reached EGP 16.3 at the Commercial International Bank.
The black market rate for dollars surged to unprecedented highs last week, reaching roughly EGP 18.25 on Monday, as the gap between the official and the unofficial rates continued to widen.
Egypt announced the floatation of its currency, which was previously maintained at EGP 8.8 to dollar, in a bid to meet the criteria for a $12 billion loan from the International Monetary Fund (IMF).
The decision was praised by the IMF Mission Chief in Egypt Chris Jarvis and US Secretary of State John Kerry who agreed it's an important step in the country's economic reform program.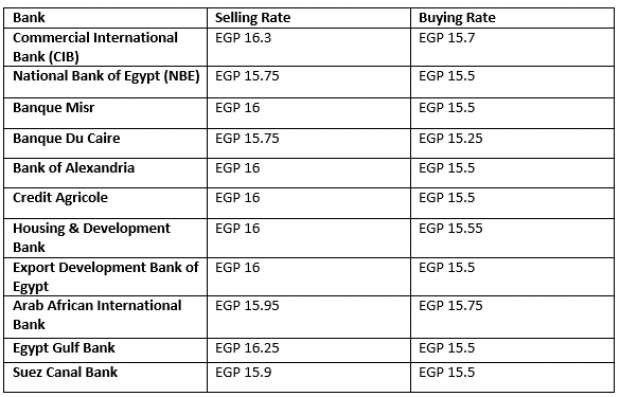 Dollar rate on November 6, 2016