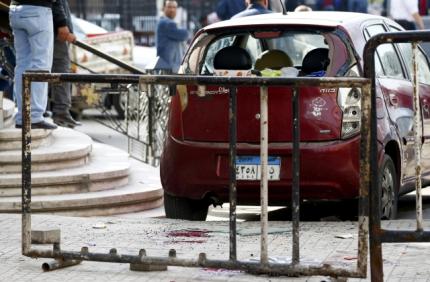 Blood stains are seen on the ground as security officials inspect the scene of a car bomb blast in front of The High Court in downtown Cairo, March 2, 2015. REUTERS/Amr Abdallah Dalsh
CAIRO, Mar 8 (Aswat Masriya) - A man died on Sunday after struggling with injuries sustained in an explosion in Gharbia governorate's Mahalla city, local health officials said, raising the death toll for the Friday night blast to three.
Mohamed Sharshar, a top ministry of health official in Gharbia told state news agency MENA that the deceased was a 50-year-old policeman. He died inside a hospital after both his legs had been amputated above the knee.
His death raises the death toll from the Friday night blast to three.
Initially one person was killed at the site of the blast, which took place outside a bank in the northern city. On Saturday, a 25-year-old army conscript who happened to be passing by when the explosion occurred died as a result of injuries.
Sharshar said three people injured in the blast are in the intensive care unit and five are under observation but said all of the injured were in "stable" condition.
Militancy in Egypt has seen a significant rise since July 2013. While most attacks target security forces in North Sinai, operations have been carried out elsewhere including in Cairo.
A blast outside the main gate of the High Court in central Cairo on March 3 left two people dead.
Egypt's newly appointed Interior Minister Magdi Abdel Ghaffar issued a large scale reshuffle within the ministry's leadership on Friday night.