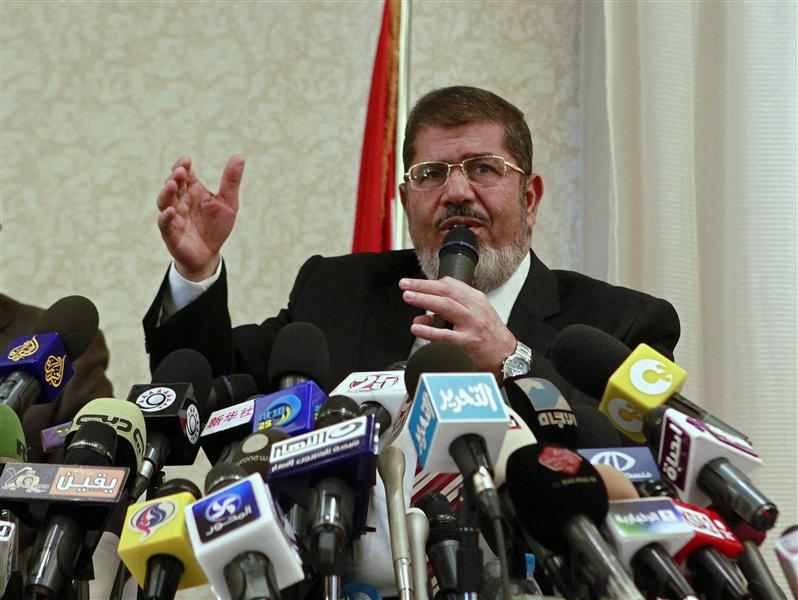 President Mohamed Mursi at a press conference in Cairo - Reuters
Egyptian President Mohamed Mursi declared a 30-day state of emergency in three cities along the Suez Canal, including a curfew from 9 p.m. to 6 a.m., following violent clashes that left over 40 people dead.
In a late-night speech, Mursi invited political leaders, including prominent opposition figures, for a dialogue to end the crisis.
Some activists staged a demonstration in Cairo on Sunday evening in protest against the president's speech, while protesters fled Tahrir Square due to the police's excessive use of teargas.
Muslim Brotherhood spokesman, Gehad al-Hadad, insisted that the Islamist president's decision to declare a state of emergency in Suez, Ismailia and Port Said was necessary, to halt the violence, but does not contradict the right to peacefully demonstrate.
Suez residents protested the president's declaration of a state of emergency while the Popular Current described it as "collective punishment".
The Popular Current, founded by ex-presidential candidate Hamdeen Sabahi, urged protesters to maintain peacefulness in their protests, turning down Mursi's call for dialogue.
Meanwhile, the Dostour Party, founded by Nobel Laureate Mohamed ElBaradei, held Mursi responsible for the violence that erupted in light of the second anniversary of the 2011 uprising that toppled Hosni Mubarak.
ElBaradei, who is a member of Egypt's main opposition coalition - the National Salvation Front - described Mursi's invitation for dialogue as a "waste of time".
The Popular Socialist Coalition Party also turned down Mursi's invitation for dialogue, asking for the sacking of government and the immediate prosecution of those who are behind the killing of protesters.
Meanwhile, Prime Minister Hisham Kandil visited Tahrir Square on Monday to inspect the security situation, calling on political forces to condemn violence and attacks on police forces, insisting that it is their job to protect strategic targets.
Spokesman of the Wasat Party, Tarek al-Malt, praised Mursi's decisions and speech, insisting that the administration has found its voice.