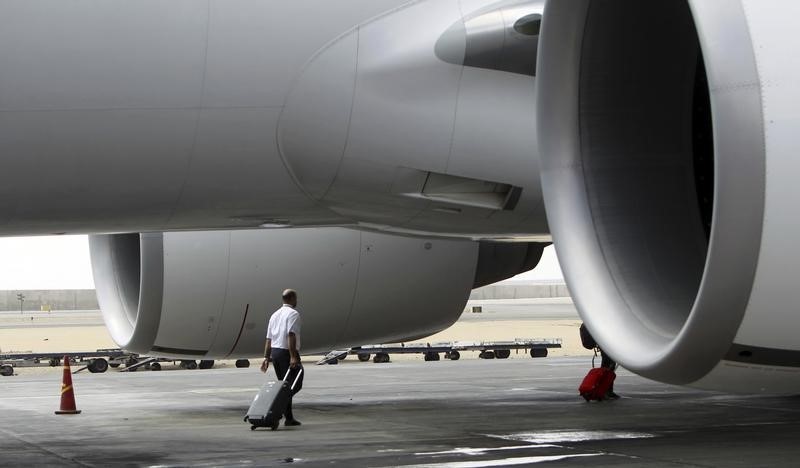 An EgyptAir airline crew member walks near an EgyptAir plane on the runway at Cairo Airport, September 5, 2013. REUTERS/Mohamed Abd El Ghany
CAIRO, Nov. 1 (Aswat Masriya) - Human Rights Watch (HRW) says it has documented at least 32 cases in which "airport security officers confiscated the passport of political activists and workers in nongovernmental groups."
"The majority have not been able to get their passports back," HRW said in a statement published on its website Sunday, criticizing the " restrictive and intimidating measures" that Egyptian security agencies are using to "unlawfully" prevent "scores from travelling outside" Egypt.
HRW's deputy MENA director Nadim Houry said "Egyptian authorities have jailed thousands of dissidents in the past two years and are now turning the country's own borders into de facto prison walls."
The Interior Ministry could not be immediately reached for comment.
Egypt is often the centre of criticism by HRW and other international watchdogs, to which authorities typically respond by accusations of bias and by denying the violations.
HRW said that "Egyptian authorities should end these non-judicial restrictions, give citizens recourse to challenge travel bans, and return their passports."
Article 62 of the Egyptian constitution states that "no citizen may be prevented from leaving the state territory, placed under house arrest or prevented from residing in a certain place except by a reasoned judicial order for a specified period of time and in the cases as defined by the law."
Last month, a journalist, Mahmoud Mostafa was arrested at the airport as he was going to board a flight to London on a student visa to pursue studies in the United Kingdom.
While speaking to his wife on the phone, the call was cut off just after he told her that he was detained for "unknown reasons." He was the third journalist to be arrested by Egypt's authorities within less than a week.
HRW says "leaders and members of political parties, youth activists, people associated with nongovernmental groups, and a former aide" to ousted president Mohamed Mursi have all been subjected to restrictions by the authorities.
Among the cases cited by HRW is that of Islamist preacher Mohamed Jibril.
On July 15 Jibril, who is known for his emotive voice reciting the holy Quran while leading prayers and making supplications, was stopped from boarding a flight to the United Kingdom last Ramadan.
The decision came "as per instructions from a security body," airport security sources told Aswat Masriya at the time.
More than three months after the ban was enforced, a top court lifted it on Oct. 27.
In addition to specific travel restrictions, HRW also addressed a wider travel ban which requires Egyptians aged between 18 and 40 to obtain security approvals before entering several countries, including Turkey and Syria.
"The government never officially announced the details of this policy and the full list of countries affected, but Human Rights Watch documented the policy through the people affected as of December 2014," the watchdog said.
HRW said that the Egyptian government's "opaque travel restriction policy" violates international human rights law and Egypt's constitution.