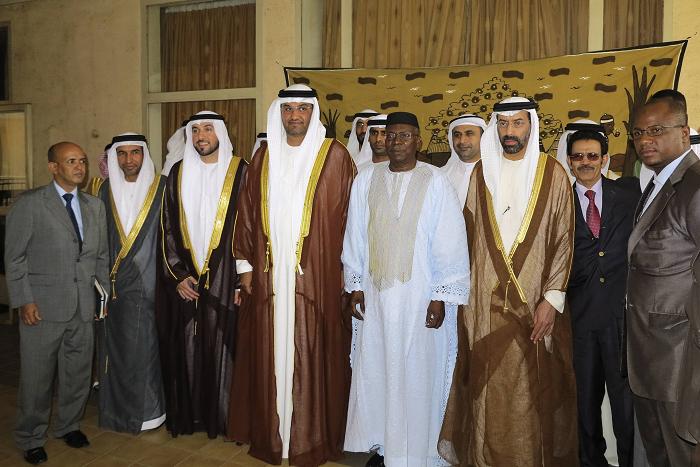 United Arab Emirates (UAE) Minister of State Sultan Mohammad Al-Jaber (centre L) and members of the UAE delegation poses with Younoussi Toure, President of the Malian Parliament (centre R), in Bamako June 27, 2013. REUTERS/Adama Diarra
CAIRO, Aug 31 (Reuters) - The United Arab Emirates will provide Egypt with petroleum products worth $8.7 billion over a year starting in September, an Egyptian official told Reuters on Sunday.
Egypt has struggled to curb its swelling budget deficit and meet its soaring energy demands, which have resulted in daily electricity cuts around the country of 86 million people.
Oil-producing Gulf countries have come to Egypt's aid since the army, prompted by mass protests, ousted Islamist President Mohamed Mursi last year.
"We will complete all the details this week and the first shipment will be sent next week," the official said, referring to the UAE agreement.
He said some of the petroleum products would comes as grants and the remainder under a credit agreement that would be repaid in instalments.
The United Arab Emirates, Saudi Arabia and Kuwait have together provided Egypt with more tan $20 billion in grants, loans and petroleum products since Mursi's overthrow.
Fuel subsidies have in recent years cost Egypt's government around $15 billion a year, a fifth of the state budget. But the government slashed energy subsidies and increased prices by more than 70 percent in July.
"Egypt imports petroleum products worth around $1 billion to $1.3 billion a month," the official said. (Reporting by Ehab Farouk, writing by Asma Alsharif; Editing by Andrew Heavens)