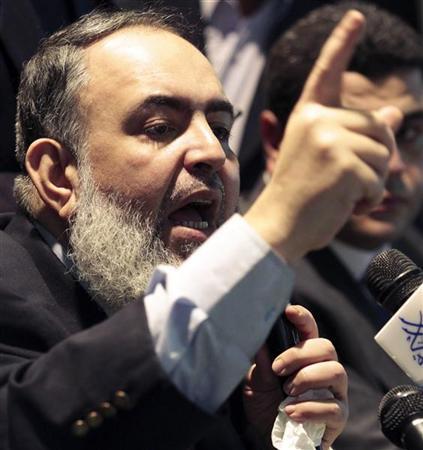 Presidential candidate, Hazem Salah Abu Ismail - Mohamed AbdelGhany/REUTERS
Salafist (ultraconservative) potential presidential candidate, Hazem Salah Abu Ismail, has denied rumors that his mother holds American citizenship, adding however that his sister does.
Abu Ismail explained that his sister moved with her husband to the United States over 20 years ago and thus holds US citizenship. As his mother paid frequent visits to his sister, she was given a green card which enables her to enter US grounds without visa and grants her the right to live there if she wishes, reported the Middle East News Agency.
Reports claiming that the presidential candidate's mother, Nawal Abdel Aziz Noor, holds US citizenship have widely circulated since Wednesday. Such condition would disallow Abu Ismail from running for president as Egypt's elections law requires that candidates' parents and spouses only hold Egyptian citizenships.
Abu Ismail submitted his presidential documents to the High Presidential Elections Commission (HPEC) on Friday after securing more than the amount needed.
According to Egypt's elections law, candidates are required to secure the support of 30 parliamentarians, collect endorsements from 30, 000 citizens or enjoy the official support of a political party that holds at least one seat in parliament, in order to officially run for president.
All in all, eight candidates have officially submitted their presidential documents, one week before the floor for registration closes.
Five candidates were endorsed by political parties and have submitted their presidential documents to the HPEC; Ahmed Mohamed Awad Ali (National Party), Aboul Ezz Al-Hariri (Popular Socialist Coalition Party), Mohamed Fawzi Eissa (Democratic Generation Party), Hossam Khairallah (Democratic Peace Party) and Hisham Al-Bastawisi (National Progressive Unionist Party).
Three candidates were able to secure the 30, 000 recommendations required and have also submitted their documents to the HPEC; Amr Moussa, Abdel Moneim Aboul Fotouh and Hazem Salah Abu Ismail.