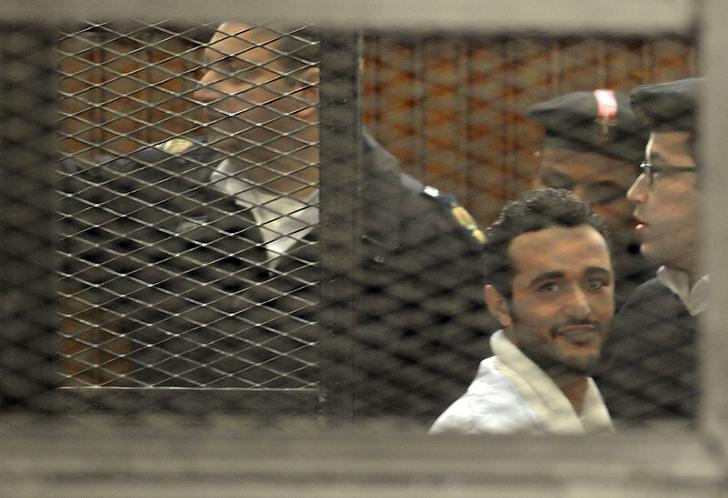 Political activist Ahmed Douma of the 6 April movement looks on behind bars in Cairo, December 22, 2013. REUTERS/Stringer
CAIRO, Sept 3 (Aswat Masriya) – Political activist and blogger Ahmed Douma's lawyer withdrew on Wednesday from his trial and 268 others over violence which occurred outside the cabinet's building in December 2011.
The Cairo Criminal Court postponed on Wednesday the trial to September 17. It referred three of Douma's lawyers to investigation, accusing them of "rioting" and refusing to follow the court's orders, according to an eyewitness account.
Osama al-Mahdy, Douma's lawyer and one of those referred to investigation, told Aswat Masriya he withdrew from the session because the court "breached the guarantees of a fair trial."
An altercation erupted between the court and the defence team, the eyewitness told Aswat Masriya.
"The court prevented me from meeting Douma alone before the trial," Mahdy said. He added that the court dealt with the defence team in an "inappropriate" manner.
Mahdy is calling for holding the trial sessions at the Cairo Criminal Court. Sessions are held at the Tora Institute for Police Officers, which he described as a "military barrack".
Douma's lawyer also urged for making the trial sessions public, pointing that the media is not always allowed into court, while the defendants' families are not allowed to attend the sessions.
"The defendants are placed in glass cages; they cannot hear us or be heard," Mahdy said, calling for allowing the defendants to interact with their lawyers and with the court as another "guarantee of fair trial."
Mahdy also demanded that defendants who were released from custody be allowed to attend the court sessions. He said some released defendants were prevented from attendance in the past.
"If those demands are not met, I will withdraw from this case entirely," Mahdy said.
Douma was arrested last December on charges related to violating the protest law.
He announced going on hunger strike two weeks ago, and started the strike on August 28, said his wife Nourhan Hefzy. Mahdy said his client lost a lot of weight in a short amount of time and looked exhausted on Wednesday.
After the court session, Hefzy filed a report to the prosecutor general accusing the minister of interior and his deputy for prison affairs of being obstinate about transferring Douma to hospital amid his worsening health condition.
Hefzy told Aswat Masriya the authorities are pressuring her husband to end his hunger strike.
Douma and the 268 other defendants are accused of illegal assembly, possession of bladed weapons and Molotov cocktails, assaulting army and police personnel and attacking governmental institutions.
Clashes broke out between protesters and security forces outside the cabinet headquarters in December 2011, leaving at least three people dead and 255 wounded.