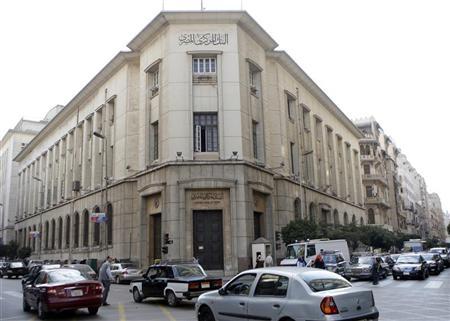 Central Bank of Egypt -Reuters
CAIRO, Sept 25 (Reuters) - Egypt's 2013-14 current account deficit shrank to $2.4 billion in the 2013-14 fiscal year from $6.4 billion the previous year, boosted by billions of dollars in foreign transfers, the central bank said on Thursday.
The improvement in the current account deficit was driven by a rise in remittances and other payments from abroad, including aid, the central bank said. Net official transfers increased to $11.9 billion in the 2013-14 fiscal year, which ended in June, from $835.6 million the previous fiscal year, the bank said.
Arab Gulf countries have provided Egypt with aid worth billions of dollars in the form of financial support and oil products since former army chief Abdel Fattah al-Sisi deposed Islamist President Mohamed Mursi last year after mass protests.
Sisi took office as president in June and pledged to combat terrorism, improve the economy and restore stability after three years of upheaval, which began when a popular uprising ended three decades of iron-fisted rule by Hosni Mubarak.
The central bank said the improvement might have been larger without a sharp decline in tourism revenues. They fell 48 percent to $5.1 billion from $9.8 billion a year earlier.
The trade deficit grew by 9.8 percent to $33.7 billion from $30.7 billion a year earlier, the central bank said, as merchandise imports rose 3.7 percent and merchandise exports fell 3.2 percent.
Foreign direct investment in Egypt rose to about $4.1 billion in the last fiscal year compared with $3.8 billion in the previous year, the central bank said, attributing the increase to a net inflow for oil sector investments. (Reporting by Lin Noueihed and Maggie Fick; Editing by Sonya Hepinstall, Larry King)