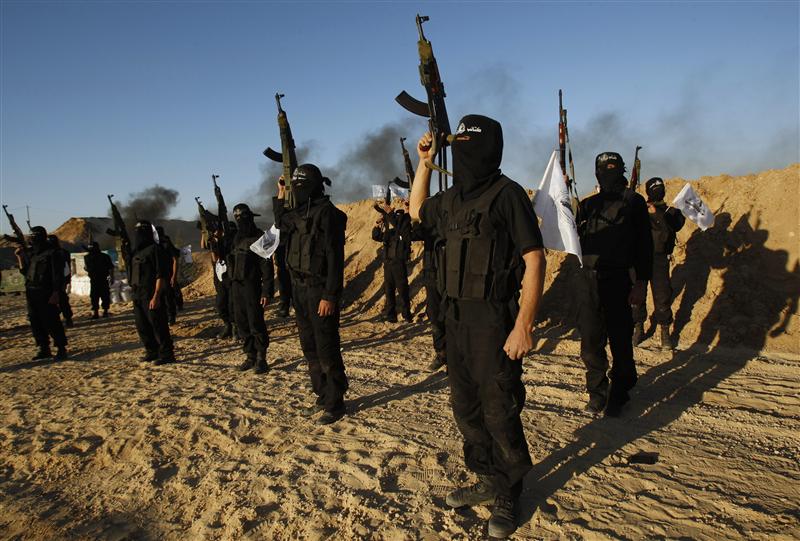 Islamist Militants in Arish - Reuters
CAIRO, Jan 21 (Aswat Masriya) - A video posted by a Twitter account attributed to Sinai-based militant group Ansar Bayt al-Maqdis on Wednesday shows masked men pledging to continue attacks on Egypt's security personnel.
One man promised new attacks against the Egyptian army in Sinai, to enforce "the law of God."
Another speaker reiterated the militant group's pledge of allegiance to the Islamic State fighters in Syria and Iraq. He called on Islamic State leader Abu Bakr al-Baghdadi to guide them.
Some of the men featured in the video can be seen bearing light weapons.
Ansar pledged allegiance to the leader of the Islamic State fighters in Iraq and Syria in a video released in November 2014, after Islamic State fighters gained control over large areas of Iraq and Syria over the summer of 2014.
Ansar Bayt al-Maqdis claimed responsibility for several attacks against Egypt's security forces after the ouster of Islamist President Mohamed Mursi in July 2013.
Militants have stepped up attacks targeting security forces in Egypt, particularly in the Sinai peninsula, since Mursi's ouster.
In the deadliest attack since, at least 30 military personnel were killed in a suicide operation which targeted a security checkpoint in Sinai's Sheikh Zuweid on October 24.
Ansar claimed responsibility for the attack in a video.