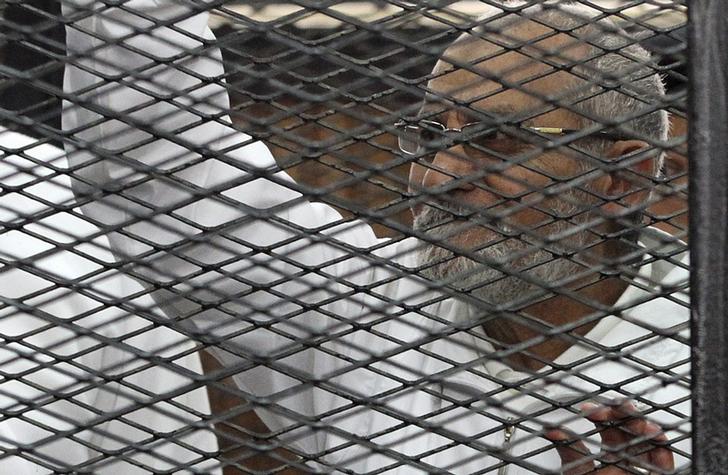 Muslim Brotherhood leader Mohammed Badie looks on from the defendants cage during his trial with other leaders of the group in a courtroom in Cairo December 11, 2013. REUTERS/Stringer
CAIRO, Sept 22 (Aswat Masriya) – Egypt's top prosecutor referred on Monday Muslim Brotherhood Supreme Guide Mohamed Badie and 104 others to trial for murder, among other charges.
The 105 defendants are accused of inciting violence which took place in the governorate of Ismailia on July 5, 2013 following the ouster of former Islamist President Mohamed Mursi.
A pro-Mursi armed protest blocked a road and attacked the Ismailia governorate building, clashing with the security forces guarding it, according to a statement from the prosecutor general's office. The violence left three killed and 16 injured.
The prosecution charged the 105 defendants with terrorism, murder, attempted murder, "thuggery", display of force, vandalism, campaigning for a terrorist group and possession of weapons.
The prosecutor general's office accused Badie of plotting with Muslim Brotherhood leaders in Ismailia to "spread chaos … to punish the citizens who revolted against Mursi on June 30, 2013."
Seventy five defendants were referred to the criminal court, while the prosecutor general issued an arrest warrant for the thirty remaining defendants.
Badie and 14 others were sentenced to life in prison last week for murder and inciting violence. The 15 defendants were tried for violence which occurred following the ouster of former Islamist President Mohamed Mursi in Giza's Bahr al-Azam neighbourhood on July 15, 2013, leaving five killed.
Badie and other Brotherhood leaders were also sentenced on August 30 by the same court to life in prison for inciting clashes outside al-Istiqama Mosque in Giza on July 22, 2013.
The supreme guide has already been served a ratified death sentence over clashes in Minya last August. A criminal court confirmed on June 19 his death sentence alongside 182 other defendants. The mass death sentence has garnered international condemnation.
The Muslim Brotherhood Supreme Guide remains facing a string of other charges in more than one pending court case.