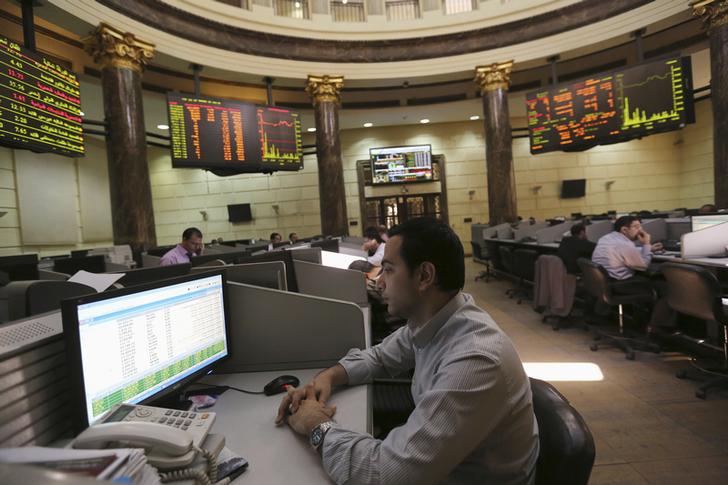 A trader watches his monitor at the Egyptian stock exchange in Cairo April 1, 2014. REUTERS/Mohamed Abd El Ghany
CAIRO, Aug 16 (Aswat Masriya) - The Egyptian stock market's benchmark index dipped by 3.22 percent on Sunday, in what analysts believe is the result of the confiscation of the assets of the chairman of food company Juhayna.
EGX 30 plunged to 7625.76, the lowest point since July 27 when it settled at 7887.87. Likewise, the index for small and medium enterprises EGX 70 and the broader EGX 100 fell by 2.86 and 2.21 percent, respectively.
Eissa Fathy, the managing director of a Cairo-based securities firm described news related to the confiscation of the assets of Juhayna's chairman Safwan Thabet as one of the "sparks" for the stock market's dive.
Fathy cited other reasons as well, including the drop in Gulf markets.
The Egyptian Exchange had to temporarily suspend the trading of Juhayna's stock after it fell by more than the 5 percent, which is more than the maximum drop allowed in a single session. Juhayna's stock ended descended by 7.51 percent at the end of Sunday's trading.
Thabet's assets were confiscated by the committee tasked with managing Muslim Brotherhood funds on Thursday. His shares in companies listed in the stock exchange were frozen, including Juhayna's, but trading of the stock itself was not halted.
Ehab Saeed, an analyst working with Osool ESB Securities Brokerage, said the confiscation of Thabet's assets was a "big shock" for traders, and has driven the market down.
This comes despite statements by Mohamed Omran, chairman of the Egyptian Exchange, who said that the freezing of Thabet's shares "will not harm other shareholders."
Founded in 1983, Juhayna is considered Egypt's largest producer of juices and dairy products. It caters to markets across Africa and the Middle East, and it also sells to European and United States markets to a lesser extent.
Sunday's trading session at the Egyptian stock exchange is the first session of every week.