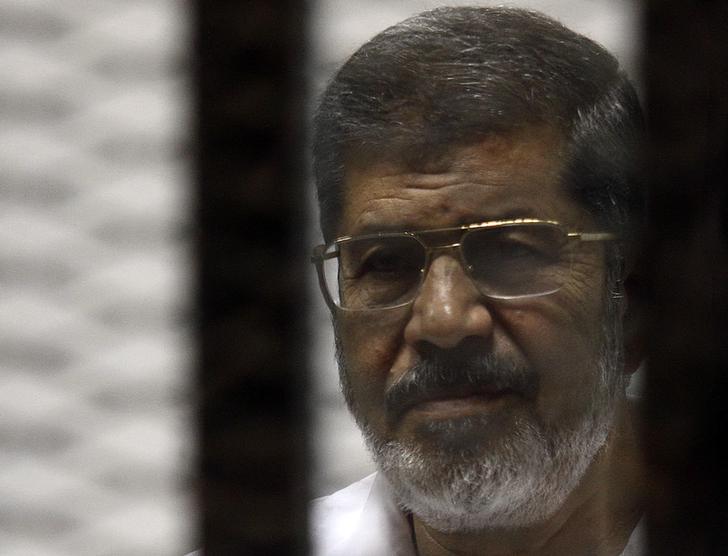 Ousted Egyptian president Mohamed Mursi stands behind bars during his trial at a court in Cairo, May 8, 2014. REUTERS/Stringer
CAIRO, Sept 21 (Aswat Masriya) – The Cairo Criminal Court postponed on Wednesday the trial of ousted Islamist President Mohamed Mursi and 130 others for escaping from the Wadi al-Natroun prison to October 18.
The Muslim Brotherhood leaders are accused of collaborating with international bodies, the Palestinian Hamas and Lebanese Hezbollah, to escape prison during the January 25 uprising that toppled former President Hosni Mubarak in 2011.
The court asked the prosecution to provide a report from the Homeland Security (formerly known as State Security) regarding the killing of protesters during the 2011 uprising.
The court had mandated the prosecution during the previous session to inquire from the general intelligence and the military intelligence whether the incident of sneaking through the state's eastern borders during the uprising was recorded on video.
Mohamed Damati, among the defence team, told Aswat Masriya the videos would reveal whether Hamas members did indeed infiltrate the borders to help the prisoners escape.
Damati said the defence also requested summoning the security personnel who were guarding the Suez Canal during the uprising to ask whether armed foreigners entered the country during the uprising.
Mursi and the 130 other defendants are charged with murder and attempted murder of policemen, torching government buildings, breaking into prison and helping prisoners escape. Some of the defendants, including members of Hamas and Hezbollah, are being tried in absentia.
The former president, ousted since July 2013, is implicated in a group of other court cases. He is being tried for inciting the killing of protesters outside the presidential palace during his tenure in December 2012, insulting the judiciary, and two separate espionage cases.