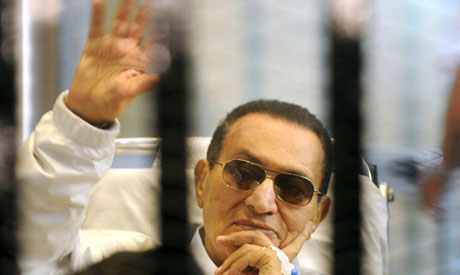 Former Egyptian President Hosni Mubarak waves to his supporters from behind bars as he attends a hearing in his retrial on appeal in Cairo, Egypt, Saturday, April 13, 2013
CAIRO, March 19 (Aswat Masriya) A Cairo criminal court resumed on Wednesday the trial of former President Hosni Mubarak and his aides over accusations that they illegally spent over 100 million Egyptian pounds, from public funds, on presidential palaces.

Mubarak's sons are also accused in this case.

The former president was ousted by a nationwide uprising in 2011 after ruling the Arab World's most populous country for 30 years.

He is now being tried over several accusations along with his aides. He has so far denied all charges.

Mubarak also stands trial in the cases of killing protesters during the 2011 uprising and exporting fuel to Israel.