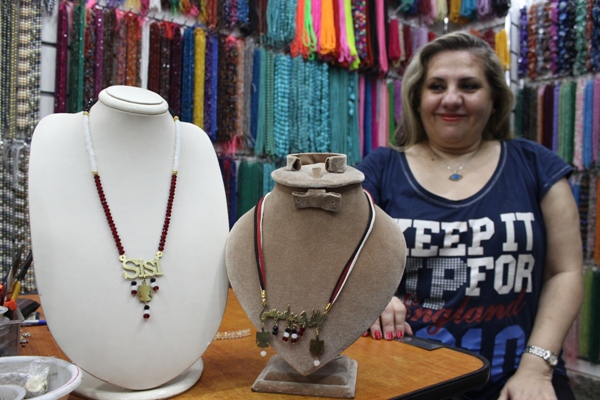 Jewelry designer Nermin Nazim with her articrafts – Ahmed Hamed/Aswat Masriya
By Marium Mohamed

In one of the trendiest hypes in Egypt following the military's ouster of deposed President Mohamed Mursi, one chocolatier manufactures chocolate imbedded with pictures of Egyptian Defence Minister Abdel Fattah al-Sisi.

On the same token, a jewelry designer makes some ornaments featuring Sisi's name and rank accompanied by colors of Egypt's flags.

The idea of styling a collection dedicated to Egypt's top army figure occurred to Nermin Nazim, jewelry designer and state-television anchor, after "he liberated Egypt and freed it from fascism," in her words.

Words like "Oh Sisi," and "You pester them Sisi," are carved on Nazim's customized rings and bracelets, yet she insists that her pro-Sisi collection is not an over-idolization of him but mere appreciation of a "person who gave the people plenty and sacrificed his life to Egypt."

She holds the army in high regard since some of her family members, including her father belongs to this pervasive state-institution.

During the interview, Nazim herself was wearing a pendant bearing an eagle, the iconic figure of Egypt's flag.

Nazim stressed that the district where she works, located in Cairo's old historic market area Khan al-khalili, supports the army to a great extent.