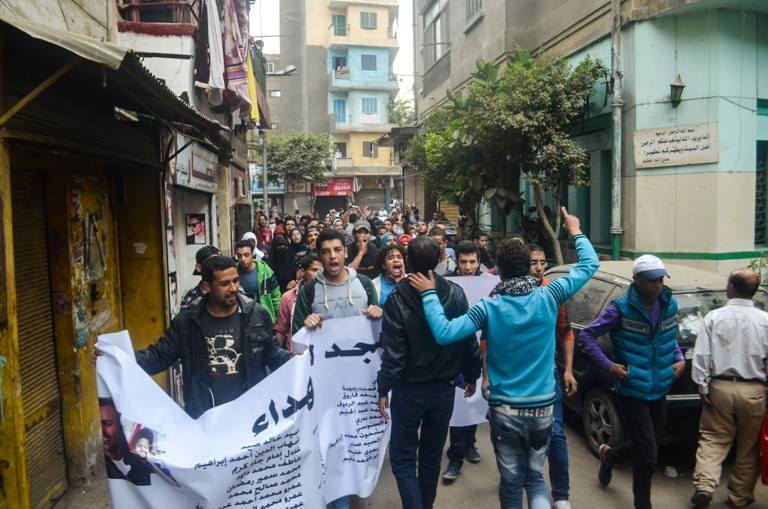 Protests staged in the Abdeen area of Downtown Cairo commemorating the third anniversary of the Mohamed Mahmoud clashes, on November 19, 2014. ASWAT MASRIYA/Mohamed al-Rayi
CAIRO, Nov 20 (Aswat Masriya) - A number of political parties and movements are scheduled to hold a conference on Thursday at al-Dostour party headquarters, to respond to what they called "random arrests' campaigns" that took place on Wednesday, during the commemoration of Mohamed Mahmoud clashes' third anniversary.
All protesters who were arrested during the third anniversary of Mohamed Mahmoud clashes were released, except for three people who were detained at Abdeen police station, and a girl who was detained at Qasr al-Nil police station, Ragia Omran, member of the Front to Defend Egyptian Protesters, said.
Human rights lawyer Mahienour el-Massry was also released Wednesday, after she was arrested on the same day in Alexandria alongside three others and sent to Raml police station.
Police forces arrested 52 protesters who took to the streets on Wednesday to commemorate the third anniversary of Mohamed Mahmoud clashes.
Security forces cordoned Talaat Harb Square with armoured vehicles, eye-witnesses said. Police fired warning shots and dispersed protests around the square, a security source, who preferred to remain anonymous, told Aswat Masriya.
Protesters arrested belong to youth political movements including the April 6 Youth Movement and the Revolutionary Socialists, the source added.
The Mohamed Mahmoud clashes erupted on November 19, 2011, stretching for five days. The clashes between security forces and protesters opposing the then-ruling Supreme Council of the Armed Forces (SCAF) were the deadliest since the January 2011 uprising which toppled President Hosni Mubarak. The clashes left almost 50 killed.