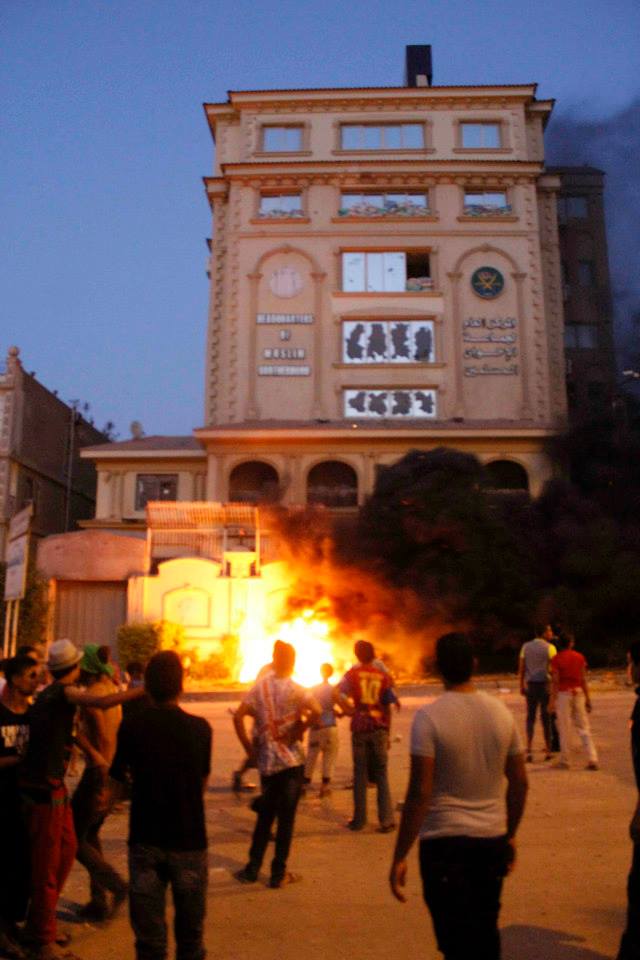 The Muslim Brotherhood headquarters in Mokattam torched on Sunday, June 30, 2013 - Emad Ahmed/Aswat Masriya
CAIRO, Jul 1 (Aswat Masriya) - Nine Muslim Brotherhood leaders were killed by police on Wednesday, with conflicting reports on the conditions of their death.
The Interior Ministry said in a statement that Brotherhood leader Abdel Fattah Ibrahim was leading a meeting, held in Cairo's October 6 suburb, to discuss "plots" to carry out "terrorist" attacks.
The police said they were shot at upon approaching the meeting point, adding that they responded with fire killing Ibrahim and 8 others.
The deceased also include Muslim Brotherhood lawyer Nasser al-Hafi, the deputy director of investigation in Giza, Magdi Abdelaal said earlier on Wednesday.
According to the police statement, preliminary information indicates that this group has supported all recent "acts of violence and assassinations". On Monday, prosecutor general Hisham Barakat was assassinated in a car bomb attack in Cairo.
However, Muslim Brotherhood spokesman Mohamed Montaser said the leaders who were killed were "unarmed", adding that the reports on clashes with security forces are "lies", in a statement posted on a Brotherhood website.
The spokesman added that the meeting took place in an apartment and that they were discussing supporting the "orphans of martyrs".
Earlier on Wednesday, a source had told Aswat Masriya that 13 "terrorists" were killed by Egyptian security forces after a gunfire exchange, in headquarters belonging to "terrorists" in October 6.
This comes on the one of the deadliest days for Egypt, after militants launched simultaneous attacks on Egyptian security sites in North Sinai.
The general command of Egypt's armed forces announced that no less than 100 "terrorists" had been killed. From the army, 17 were killed and 13 were injured, the armed forces said in a televised statement.
Egypt listed the Brotherhood as a terrorist organisation in December 2013 and insists it is behind the wave of militancy which has targeted security personnel since July 2013.
The Brotherhood continuously denies the accusations.