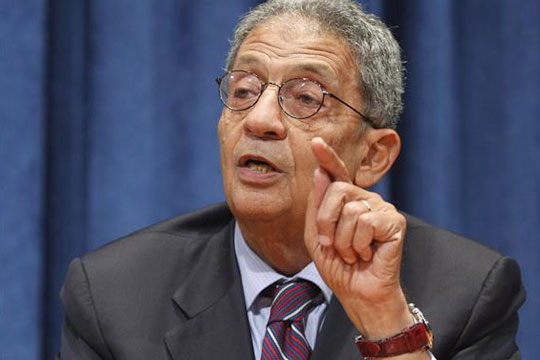 Potential presidential candidate Amr Moussa - photo from REUTERS
Head of the Conference Party Amr Moussa urged on Thursday the Muslim Brotherhood's Freedom and Justice Party (FJP) to approve the initiative he proposed and discuss it.
Moussa, member of the National Salvation Front, had proposed a political initiative that reflects the front's spirit.
The initiative consists of five items which are creating a political truce between the front and the presidency, forming a one-year emergency government headed by President Mohamed Mursi and comprising all political factions, maintaining security while backing the right to demonstrate peacefully, revealing the true economic situation to the people, and forming a committee of constitution experts to review the disputed articles in the newly approved constitution and presenting them to the emergency government.
In a statement the Middle East News Agency (MENA) reported, Moussa called for resuming work at suspended factories and restarting the economy to get out of the current impasse.