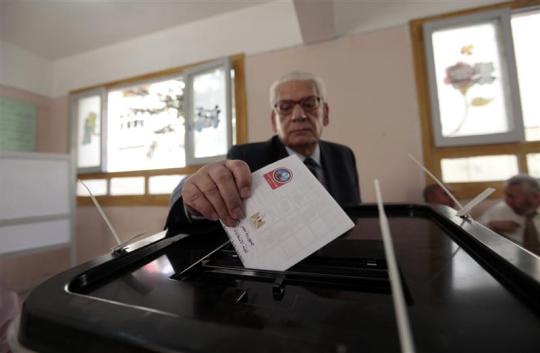 An Egyptian casts his vote on May 23, 2012 in presidential elections - Mohamed AbdelGhany/REUTERS
CAIRO, March 11 (Aswat Masriya) The government and the president have the authority to amend the presidential elections law, said Farid Tanagho, the head judge of Egypt's state council.
Interim President Adli Mansour ratified the new elections law on Saturday ahead of the presidential election expected to kick off in the first half of this year.
Tanagho told state newspaper, Al-Ahram, that the constitution allows for the president and the government to make amendments to the newly ratified law.
The new law stipulates that candidates must have a higher degree in education, must have never been convicted, even if rehabilitated, and must be physically and psychologically fit.
Candidates may challenge the initial vote results, but not the final, which a number of constitutional experts and politicians have criticized, considering it a way to safeguard the elections commission supervising the vote.