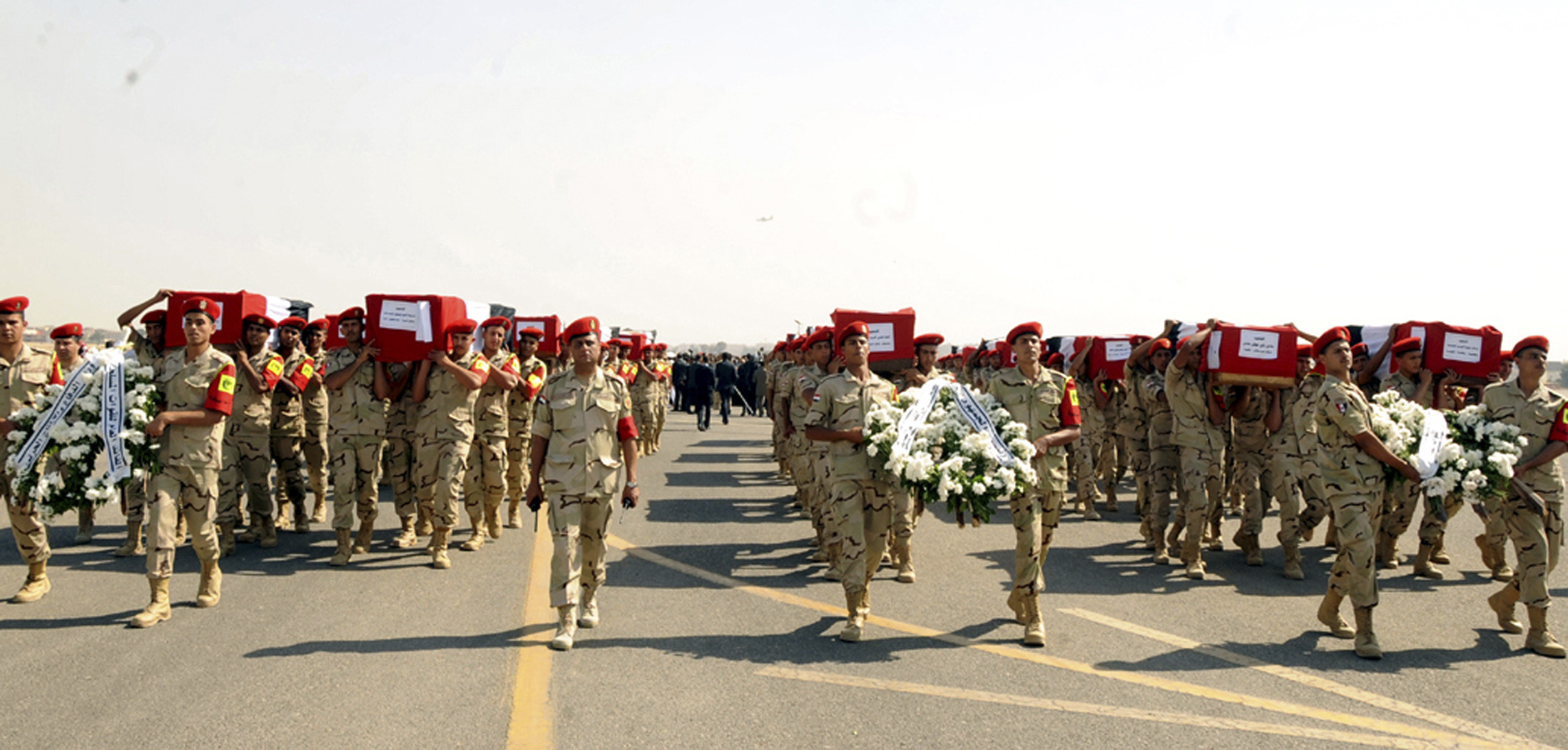 Soldiers carry the coffins of fellow soldiers killed in a suicide attack in Sinai on Friday during a military funeral in Cairo, October 25, 2014. REUTERS/The Egyptian Presidency/Handout via Reuters
NORTH SINAI, Oct 26 (Aswat Masriya) - Egyptian security forces killed on Sunday evening "two of the perpetrators" in the most recent attack in Sinai's Sheikh Zuwied, a security source from the army told Aswat Masriya.

At least 30 military personnel were killed in a suicide blast which targeted a security checkpoint in Sheikh Zuweid on Friday. The explosion also caused damage to two military vehicles.

"The forces attacked the residence of extremists, who shot gunfire at the forces, but they were able to wipe them out. They also blew up three houses that were used for meetings to prepare for the attack," the security source said, adding that the forces located the "terrorists" based on information by civilians.

President Abdel Fattah al-Sisi declared a state of emergency in Sinai for three months and a night curfew will be imposed during this state of emergency.

Sisi ratified on Saturday an armed forces plan to counter terrorism in Sinai and on other strategic fronts.

A curfew was imposed on Sinai's city of Arish starting 5 p.m. on Sunday. The curfew includes all cities and villages of North Sinai, except for for Beer al-Abd and Nakhl centers and some parts of al-Hosnaa in the middle of the Peninsula.
Egypt's security forces have intensified their security measures in North Sinai in reaction to repeated militant attacks that target army and police officials, which rose significantly since the ouster of Islamist President Mohamed Mursi last year. The attacks soon expanded to other areas of the country, including the capital.
A fact-sheet prepared by Egypt's ministry of foreign affairs put the death toll for terrorism acts which took place since January 2011 and until April 2014 at 971, including 664 security personnel. The number of casualties significantly rose since then.
Reviewing statements and press releases by security forces, Aswat Masriya counted the death of 82 people – 62 security personnel and 20 civilians, in the past two months in the Sinai Peninsula. The number is over four times that of those killed in the Peninsula during the months of June and July; 17 people including eight security personnel and nine civilians.