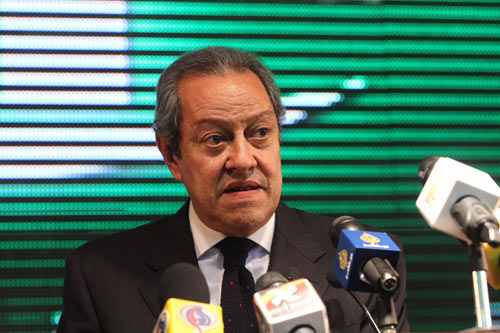 Tourism Minister Mounir Fakhri Abdel Nour
CAIRO, Sept 2 (Aswat Masriya) – Egypt is "relentlessly" working hard to save the Bali Trade Facilitation Agreement from collapsing, said Industry and Trade Minister Mounir Fakhry Abel Nour on Tuesday.
Abdel Nour spoke at a joint press conference with World Trade Organisation Director-General Roberto Azevêdo during the latter's visit to Cairo. The minister said that he reviewed, in his meeting with Azevêdo, the current position of the negotiations among WTO members regarding the Bali agreement.
The Trade Facilitation Agreement was concluded at the Bali Ministerial Conference in December 2013. India has recently voiced its disagreement with certain clauses within the agreement, refusing to approve the agreement until the sticking points are resolved.
"The failure of the Bali agreement will have a negative effect on WTO's credibility as well as that of the international trade system collectively," Abdel Nour said. He added that he reviewed with Azevêdo the possible role Egypt can play to coordinate with India over the agreement.
The current circumstances worldwide necessitate taking serious steps to amend international trade in a manner which takes into account justice and transparency between developed and developing states, AbdelNour said.
The Bali agreement would ensure faster and more efficient customs procedures. Passing the agreement requires consensus among the WTO's 160 member-states. The agreement would be enacted as soon as two-thirds of the member-states ratify it.