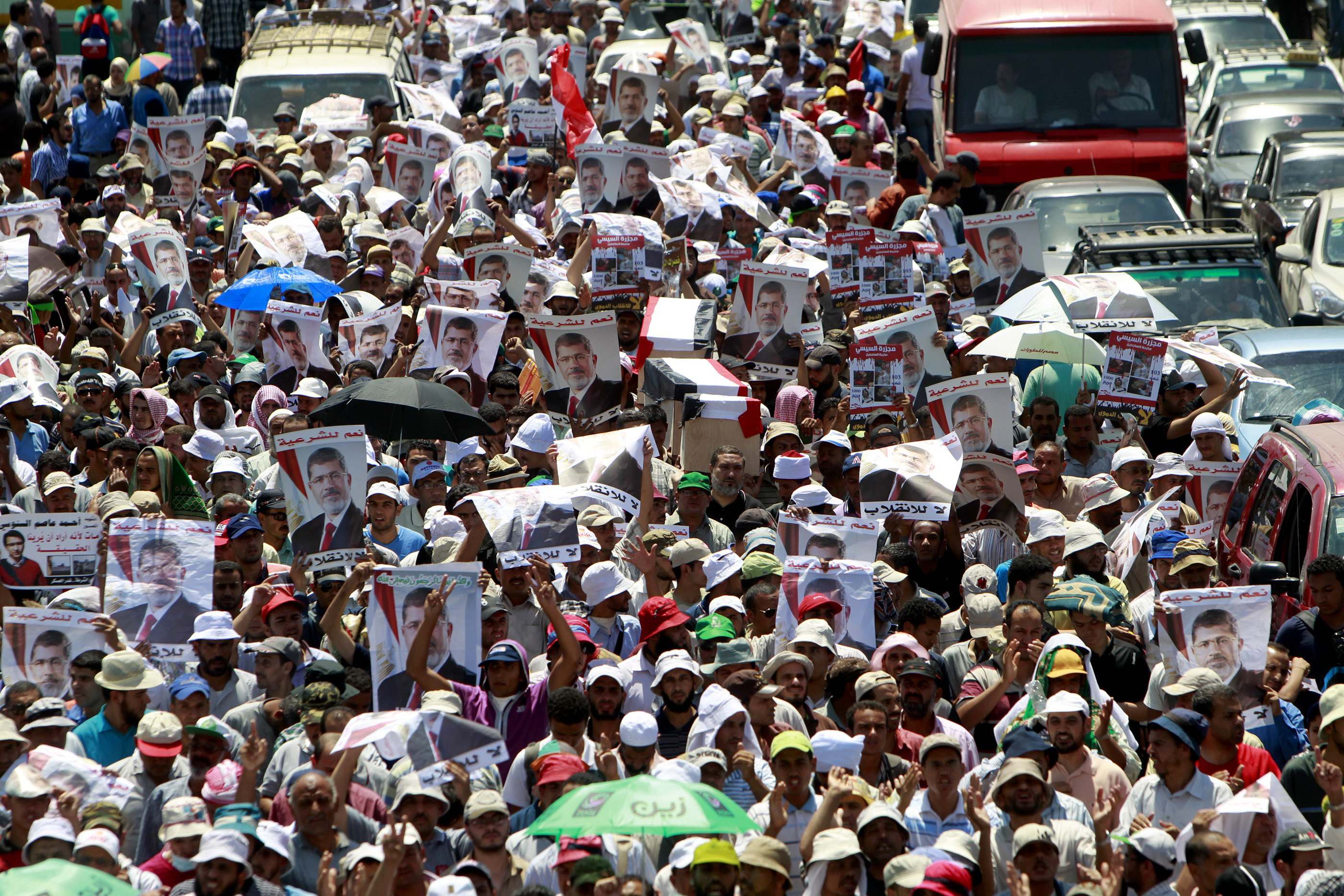 Supporters of deposed Egyptian President Mohamed Mursi shout slogans and hold symbolic coffins during a march from the Al-Fath Mosque to the defence ministry, in Cairo July 30, 2013. REUTERS/Mohamed Abd El Ghany
CAIRO, Sept 2 (Aswat Masriya) – Lawyer and Muslim Brotherhood member Abdel Moneim Abdel Maqsoud was released from custody in the early hours of Tuesday after spending over a year in jail pending trial.
Abdel Maqsoud was arrested in July 2013, shortly after the military ouster of former President Mohamed Mursi over charges of insulting the judiciary. The court is expected to issue a verdict in the case next week.
Osama al-Helw, Abdel Maqsoud's lawyer, said the Giza Criminal Court ordered Abdel Maqsoud's release on a 100,000 Egyptian pounds bail over accusations of inciting violence in Giza's Bein al-Sarayat neighbourhood in July 2013.
Abdel Maqsoud's release order was issued alongside that of Muslim Brotherhood leading figure Helmi el-Gazzar and former parliamentarian Mohamed al-Omda on August 6. Gazzar and Omda were released earlier in August.
"Despite paying the bail, security forces detained Abdel Maqsoud for nearly 13 days," Helw said. He added that the defence team filed a complaint to the prosecutor general accusing security forces of unlawfully detaining their client.
The three defendants are accused of inciting violence and the murder of protesters in the vicinity of Cairo University and Bein al-Sarayat neighbourhood in July last year.
Security forces have been rounding up Muslim Brotherhood members and sympathisers since Mursi's ouster last year. Mursi himself faces trial in four different court cases.