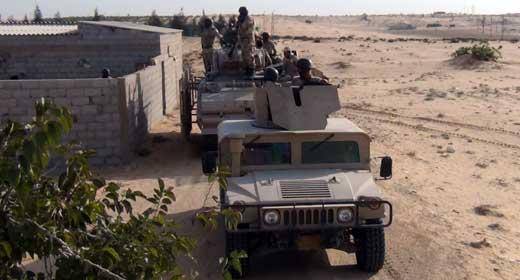 Military vehicles are seen during an army crackdown in North Sinai on July 25, 2014 - photo from Facebook page of an army spokesman
CAIRO, Jul 10 (Aswat Masriya) - Egypt's army killed two suspected militants and destroyed an explosives' warehouse in North Sinai on Friday, the armed forces spokesman said.
The two suspected militants were driving an ammunition-loaded truck in the town of Sheikh Zuweid before security forces "destroyed it completely, killing those on board," Spokesman Mohamed Samir said.
Militancy has surged in North Sinai since the military ouster of Islamist President Mohamed Mursi in July 2013, following mass protests against his rule. The majority of attacks target security forces.
Only last week, a number of security checkpoints and a police station in the town of Sheikh Zuweid came under a wave of attacks by Sinai-based Ansar Bayt Al-Maqdis militant group. It was regarded as a failed attempt to take over the town.
The attacks claimed the lives of 17 army personnel and injured 13, according to military figures. The military said it killed no less than 241 suspected militants in the five days following the attacks.
Military forces intensified the shelling of areas in North Sinai for harbouring suspected militants since the attacks.