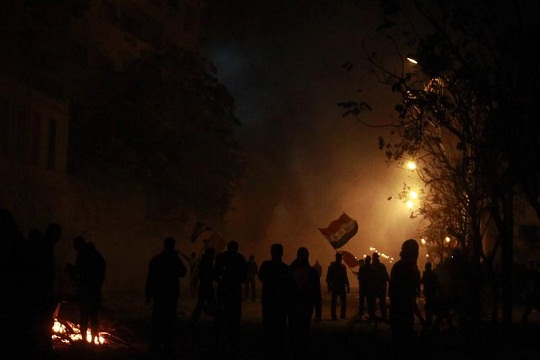 Clashes around ministry of interior headquarters - Sohaib Salem/REUTERS
Egypt's Minister of Interior Ahmed Gamal said on Monday that police forces did not fire birdshots at protesters but only used teargas to disperse them.
Scuffles broke out between police and protesters last Monday and escalated following a decree issued by the country's president on Thursday.

"The birdshot wounds were found in both parties," Gamal told Al-Ahram, adding that, "The shots that hit the police came from afar while the ones that hit protesters came from a short distance - which proves that the shots came from among the protesters."

The minister added that the forensic examination of Gaber Salah, who was declared deceased by the April 6 movement on Sunday, indicated that he was shot from a short distance.

The Interior Ministry has asked the general prosecution to inspect the location of the confrontations to confirm that that no violations were taking place, Gamal said, adding that no notices were reported.

"The police forces are the victims", the senior official insisted, explaining that protesters attempting to reach state buildings have repeatedly attacked the police.

Gamal stressed that Egypt's security status is in good shape whereas unrest in Tahrir Square gives the impression of vice versa.

He insisted that security forces are not targeting peaceful protests or sit-ins but are shielding state installments.