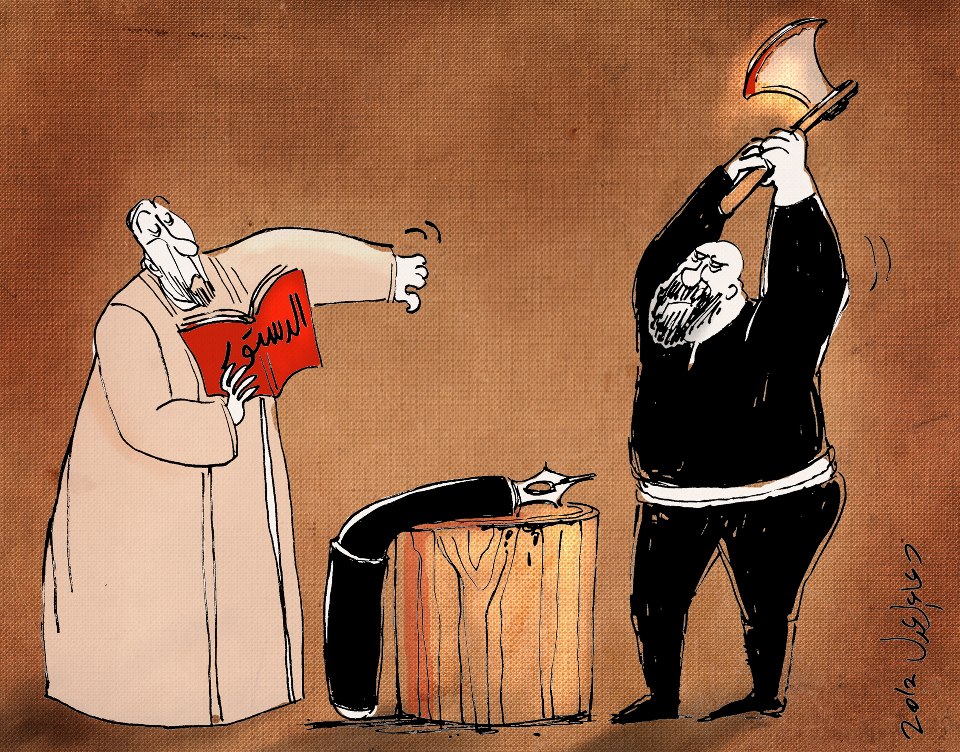 Dooa al-Adl draws a cartoon in response to charges of insulting prophets.
An Egyptian rights center condemned what it described as the targeting of female writers, activists and cartoonists because of their opinions on Tuesday.
The Appropriate Communication Techniques for Development Center (ACT) said in a statement that Egypt withstands unprecedented restrictions on freedom of opinion and expression, considering the investigation with cartoonist Do'aa al-Adl about the content of her cartoon a flagrant violation.
Doaa al-Adl, an award-winning cartoonist, drew a cartoon on Saturday of a voter who got into heaven for voting "yes" on the referendum, telling Adam and Eve that they would not have been expelled from heaven if they had said "yes" too.
The cartoon meant to ridicule those who cast their votes according to religious promises of attaining heaven.
The Attorney General ordered an immediate investigation with Adl for allegedly defaming Prophet Adam.
The cartoon was published in a local independent newspaper, owned by businessman Naguib Sawaris, who is also pending investigation for allowing the cartoon to be published.
The center's statement also condemned holding investigations with various activists on charges of insulting the president, pointing to investigation with a psychiatrist who had analyzed the character of the president on a TV show.
The Attorney General and Minister of Information have recently ordered investigations with reporters and media representatives charging them of criticizing the Muslim Brotherhood, to which the president belongs.
The statement considered these investigations a violation of freedom and a breach of human rights conventions signed by Egypt, describing such actions as arbitrary.