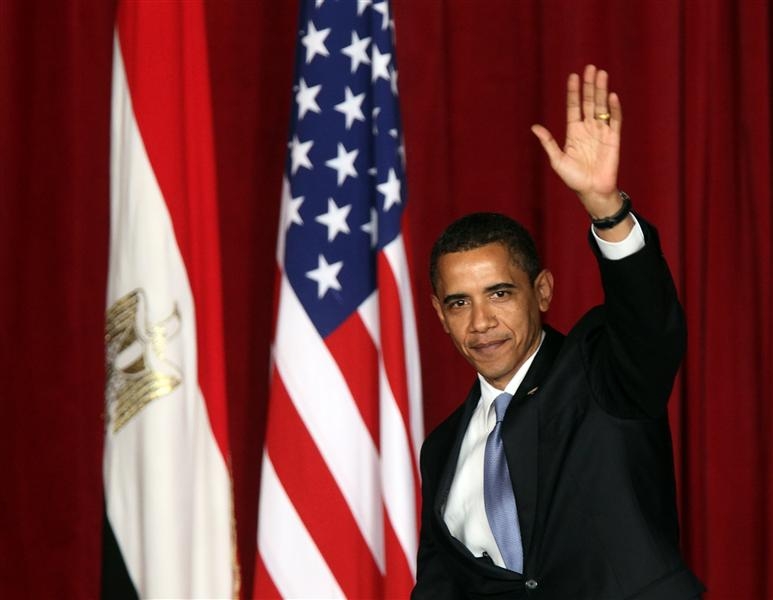 U.S. President Barack Obama waves to the audience as he leaves the Grand Hall of Cairo University after delivering a speech in Cairo June 4, 2009. Goran Tomasevic/REUTERS
CAIRO, Nov. 6 (Aswat Masriya) – In a radio interview Thursday, U.S. President Barack Obama said that "it's certainly possible that there was a bomb on board" the Russian airliner that crashed in Sinai last week, adding "we are taking that very seriously."
Obama's comments are the first of their kind by a U.S. official and came on the same day that British Prime Minister David Cameron said that "it's more likely than not" the plane was brought down by a bomb.
Cameron based his remarks on intelligence information and advice he received.
Accordingly, the UK suspended all their flights from and to Sharm el-Sheikh with the exception of today, Friday, to fly back stranded British citizens to the UK.
The British government advised "against all but essential travel by air to or from Sharm el Sheikh airport".
Reacting to those measures, Russia described Britain's remarks as "shocking".
In a Thursday press conference, Russia's Foreign Ministry's spokeswoman Maria Zakharova said that "Britain didn't provide us with any information about the crash of the Russian plane."
Egypt's Foreign Ministry described Cameron's decision as "premature".
The Russian plane crashed last Saturday, leaving 224 passengers and crew dead, all but four Ukrainians and one from Belarus were Russians.
The UK and U.S. comments came on the heels of a second claim of responsibility for the crash by an IS-affiliate in Egypt's North Sinai. The militant group said in an audio recording that the downing of the plane marks the one-year anniversary of the group's move to pledge allegiance to Islamic State fighters in Syria and Iraq, renaming itself from Ansar Beit El Maqdis to Sinai Province.
Aswat Masriya could not independently verify the authenticity of the recording.
The group had first claimed responsibility for the crash on the day it happened, but their claim was initially dismissed because the possibility of using a surface-to-air missile at such an altitude was deemed improbable.
Global intelligence firm Stratfor in an online report published Nov. 2, said that the "most probable explanation for the downed plane is the existence of an explosive device on board."
Stratfor added that Sharm el-Sheikh airport is known for its "poor" state of security.
In a joint press conference with Cameron, Sisi said that Britain had demanded ten months before the attack reassurances on the security procedures in Sharm el-Sheikh airport.