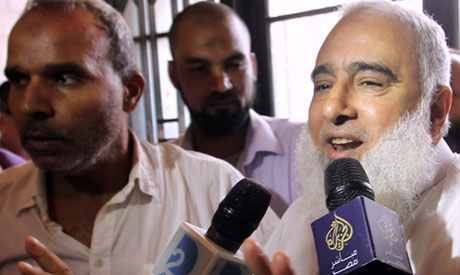 Muslim cleric Ahmed Abdullah, also known as Abu Islam, speaks to media as he arrives at court for the opening session of his trial in Cairo - Reuters
The office of Egypt's prosecutor-general has begun investigating Abu-Islam Ahmed Abdullah after he allegedly described Coptic Christian women as "whores" on his satellite television programme.
The complaint was filed by lawyer Naguib Gabriel.
Abu-Islam is also facing charges of defaming Christianity for burning copies of the New Testament.
Dozens of Abu-Islam's supporters gathered in front of the Supreme Court on Saturday and chanted that the prosecutor-general is working for the Muslim Brotherhood. Security guards prevented them from entering the court.
Abu-Islam is the owner of the Umma and Mariya satellite television channels.
In a similar case, Egypt's Administrative Court recently ordered controversial Sheikh Abdullah Badr's programme on the Al-Hafez religious channel to be taken off air for 30 days.
On 17 December, Badr was handed a one-year jail term and a LE20,000 fine for insulting the actress Elham Shahin on his show.