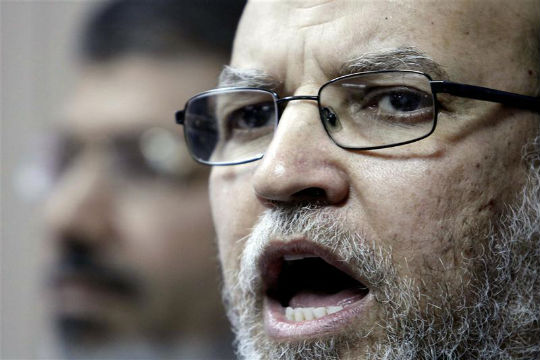 VP of Freedom and Justice Party Essam Al-Eryan - Mohamed Abdel Ghani/REUTERS
Head of the parliamentary body for the Freedom and Justice Party (FJP) in the Shura Council, Essam al-Erian, said that rumors of a new law to regulate protests were not sourced, indicating that it may only be a government proposal.
The deputy of the FJP said that the government spokesman said on Sunday that there is no such project, stressing that "the Shura Council will present all proposed laws for social dialogue."
Erian said in a statement on his Facebook page that the parliamentary body of the FJP will meet on Tuesday to discuss its own legislative agenda, after receiving proposals of members.
A local newspaper had published the text of a draft law on demonstrations and sit-ins, saying that the Shura Council's legislative committee prepared it in conjunction with the human rights comittee.
The proposal obliges those who want to organize a protest or a peaceful gathering to notify the administrative authorities three days earlier.
It also gives the administrative authorities the right to prevent such gatherings "if they will disturb public order or security."
The law stipulates that the police is entitled to attend and disperse demonstations whether they are in a public place or a special entry gathering.
The proposed law prohibits "demonstrations that do not abide by public order." It grants the Ministry of Interior the right to search protesters and the right to disperse them after the specified time. The law allows using water, teargas and electric sticks to disperse protests, but it does not allow the use of live bullets, birdshots or rubber bullets.
The law prevents the demonstration of more than one-third of the number of workers of any public or private institution as not to "disrupt production."