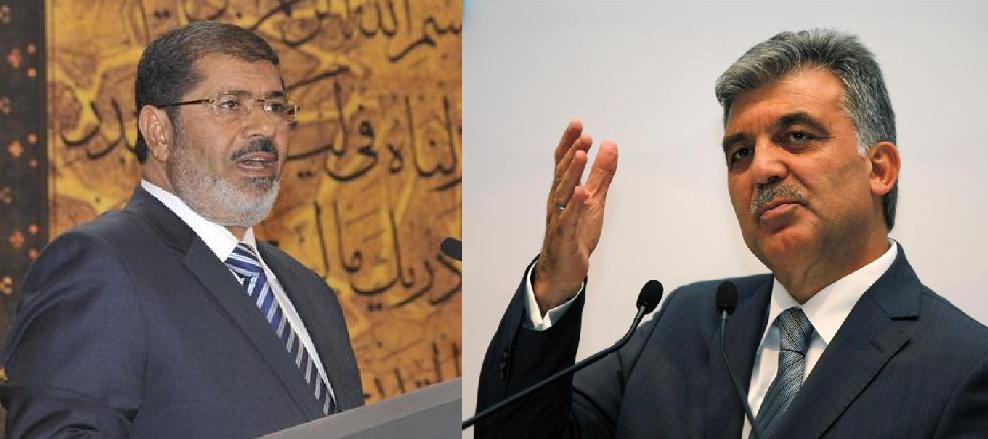 Egyptian President Mohamed Mursi and Turkish President Abdullah Gul. Reuters
A treaty of Brotherhood and Cooperation was signed on Tuesday between Ali Abdel-Rahman, Governor of Giza and Kadir Topba?, Mayor of Istanbul ,
reported the Middle East News Agency.

Signing a treaty of brotherhood and cooperation between Giza and Istanbul counts as an opening to the upcoming visit of the Turkish Prime Minister Recep Tayyip Erdogan, said Huseyin Avni Botsali, Turkey's Ambassador to Egypt.

Erdogan's visit is scheduled for the 16th and 17th of November, where many important agreements will be signed. He will be accompanied by a delegation of other ministers and businessmen to work on the expansion of mutual cooperation between the two countrie, he said.

Botsali added that an agreement to provide loans and an aid to Egypt of $ 2 billion will be employed soon.

Furthermore, Mohamed Kamel Amr, Egypt's Minister of Foreign Affairs, and his counterpart in Turkey, Ahmet Davutoglu will meet in Ankara on Thursday. They will prepare for convening a Supreme Joint Committee between the countries.

Meanwhile, Topba? expressed Turkey's willingness to provide Egypt expertise and information. He pointed out that he brought with him a delegation of experts and business leaders in various fields such as waste recycling, health and training.

Osama Kamal, Governor of Cairo said that he signed a treaty of brotherhood between the cities of Cairo and Istanbul in 1998. It was renewed in 2011.

Kamal noted the importance of the mayor of Istanbul's visit, he stressed that Turkey was in the same situations as Egypt's. And after a few years they could achieve success, stressing that Egypt has the talent and potential to achieve success likewise.

"After a few years there will be two sparkling stars on the shores of the Mediterranean, Cairo and Istanbul", he said.