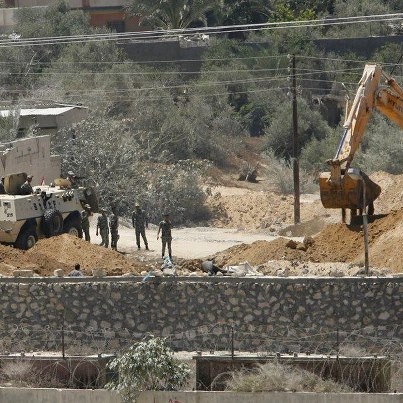 (Archive) Army forces supervise the process of demolishing tunnels in North Sinai - Aswat Masriya
CAIRO, July 11 (Aswat Masriya) - Security forces in North Sinai aborted on Thursday an attempt to smuggle 20 Grad rockets from Gaza through tunnels in Rafah.
Violent clashes broke out between security forces on one hand and Egyptian and Palestinian extremists on the other as the latter attempted to smuggle 20 Grad rockets and their bases, security sources told Aswat Masriya.
These elements aimed to use the rockets to target Israel or Egyptian forces in Sinai, the sources added.
Egypt's army has intensified its efforts to demolish tunnels linking Gaza to Sinai since August 2012 after 16 Egyptian soldiers were killed on the border.