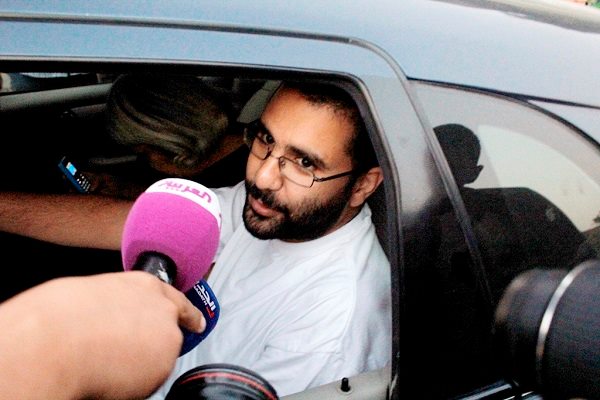 Alaa Abdel Fattah walks out of Tora Prison after the court released him from custody, on September 15, 2014. Aswat Masriya
CAIRO, Oct 27 (Aswat Masriya) – An Egyptian court ordered on Monday the preventive detention of political activist Alaa Abdel Fattah and 19 other defendants accused of violating last year's protest law pending their retrial.
Abdel Fattah and three other defendants were released on September 15 on a 5000 Egyptian pound bail each pending their retrial.
The judge overseeing the case announced stepping down, citing "disrespect".
The new judge, nevertheless, ordered the detention of the 20 defendants who showed up to court on Monday, said Mahmoud Belal, one of the lawyers representing Abdel Fattah. The defendants will remain in jail until the next trial session, due to be held on November 11, when their detention is subject to renewal.
Belal described the decision to jail the 20 defendants as "politicised".
"This is a new episode of abusing all those who belong to the January 25 revolution," Belal said after Monday's trial session.
Abdel Fattah and the 24 other defendants were sentenced to 15 years in prison in June for illegal assembly, among other charges.
Abdel Fattah was arrested from his home in November last year for illegal assembly, blocking roads, attacking a police officer and stealing his radio. The other defendants were arrested after the authorities dispersed a demonstration denouncing a constitutional article which permits military trials for civilians outside the Shura Council on November 26.
Though released in March, Abdel Fattah was sent back to jail on June 11 after the court sentenced him and the other defendants to 15 years in absentia for the same charge.
The 25 defendants were initially charged with protesting without permit, attacking and resisting the authorities among other crimes.
Abdel Fattah joins his sister, Sanaa Seif, and 22 others who were sentenced to three years in prison for violating the protest law on Sunday.
Seif was arrested alongside 23 others on June 21 while taking part in a march calling for the repeal of the protest law and the release of all those arrested on background of the law.
Former interim President Adli Mansour issued the protest law on November 24 to regulate peaceful assembly. The law has long been the epicentre of wide criticism by domestic and international human rights organisations which say it violates international standards for peaceful protests.
The legislation obliges demonstrators to inform the authorities of their intention to assemble three days prior to their scheduled events. It also gives the interior ministry the right to cancel, postpone or move protests.
The Egyptian Centre for Economic and Social Rights (ECESR) filed on September 13 a lawsuit at the Supreme Constitutional Court, Egypt's top court, challenging the constitutionality of articles in the law.