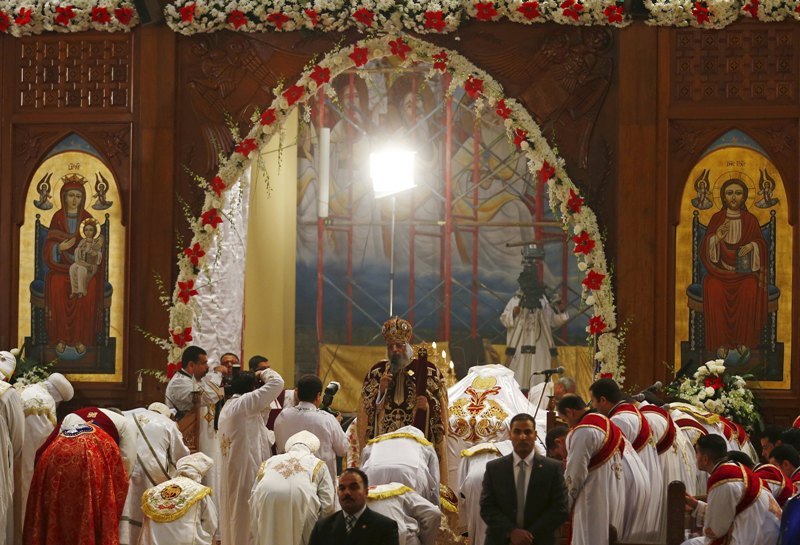 Pope Tawadros II leads Coptic Christmas eve mass in Cairo, Egypt, January 6, 2016. REUTERS - Amr Abdallah Dalsh
CAIRO, Jan 7 (Aswat Masriya) – Egypt's Coptic Orthodox Christians celebrate Christmas on Thursday after President Abdel Fattah al-Sisi greeted Pope Tawadros II and the Christian community in a televised speech from the St. Mark Cathedral on Christmas Eve.
Sisi attended the Coptic Orthodox Christmas Eve mass on Wednesday for the second year. The surprise visit he had paid to the cathedral in 2015 made him the first Egyptian president to attend the Christmas Eve mass.
"Nothing will harm us [Egyptians], whether our economic or political circumstances," he said during a speech he gave at the cathedral, located in the Cairo district of Abassiya.
He apologised to Egypt's Christians for the "delay" in restoring churches and Christians' houses that were attacked in the fallout from the military's ouster of former president Mohamed Mursi in 2013 after mass protests against his rule.
During the Christmas Eve sermon, Coptic Orthodox Pope Tawadros II thanked Sisi for attending the mass.
The pope had publicly urged Sisi to run for the presidency in March 2014 ahead of the then-upcoming presidential elections. In an interview with Kuwaiti newspaper al-Watan, Pope Tawadros II said Egyptians saw Sisi as a "saviour" and "hero of the June 30 revolution." Then the country's defence minister, Sisi gave a televised speech on July 3, 2013 announcing Mursi's ouster. The speech was given in the presence of Tawadros, the Sunni Muslim al-Azhar Imam and a number of Egyptian political figures.
Egypt's Christians, who make up around 10 per cent of the 90 million-strong population, celebrate Christmas on Jan. 7 every year.
The Coptic Orthodox Christmas has been an official national holiday in Egypt since former President Hosni Mubarak declared it as public holiday in 2003.
Mubarak was ousted in an uprising against his rule in January 2011.