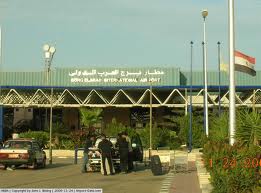 Borg El Arab International Airport Terminal. Alexandria, Egypt
Air traffic completely stopped on Sunday in Alexandria's Borg Al-Arab International Airport, following protests by hundreds of its guards demanding better working conditions and improved salaries.
Borg al-Arab director, Hani Okab, said that all flights were transferred to land at Cairo International Airport and explained that border guards have closed all terminals, starting a strike until their demands are met.
Okab said that their behavior is "irresponsible, as it caused delay in flights and the crowding of hundreds of passengers."