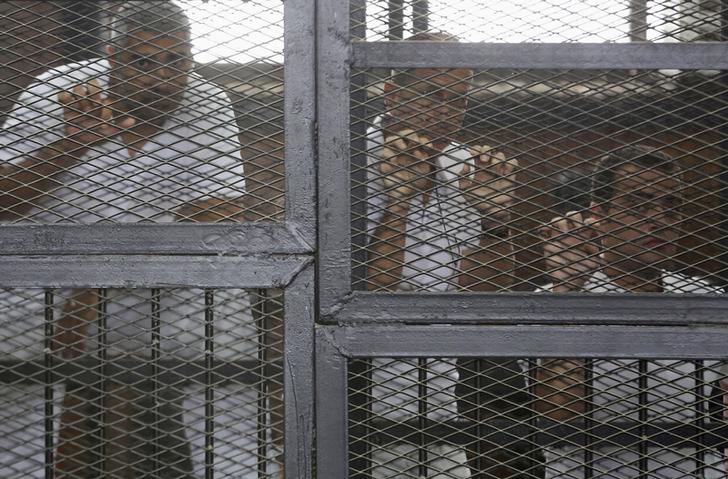 Al Jazeera journalists (L-R) Mohammed Fahmy, Peter Greste and Baher Mohamed stand behind bars at a court in Cairo May 15, 2014. REUTERS/Stringer
LONDON, June 23 (Reuters) - Britain said on Monday it was summoning the Egyptian ambassador to protest over what it said was the "appalling" sentencing of three Al Jazeera journalists to seven years in jail.
A court in Cairo on Monday found the trio guilty of charges which included helping a "terrorist organisation" by spreading lies in a case that has raised questions about Egypt's respect for media freedoms. Two British journalists were among 11 others sentenced in absentia to 10 years.
"I am appalled by the guilty verdicts handed down today against Egyptian and international journalists in Egypt," Foreign Secretary William Hague said in a statement.
"I am particularly concerned by unacceptable procedural shortcomings during the trial process, including that key prosecution evidence was not made available to the defence team. Freedom of the press is a cornerstone of a stable and prosperous society."
Hague said that British ministers and diplomats would urge the Egyptian Government to review the case "as a matter of urgency" and that Britain's views would be made known to the Egyptian ambassador in a meeting on Monday. (Reporting by Kylie MacLellan; Editing by Andrew Osborn)