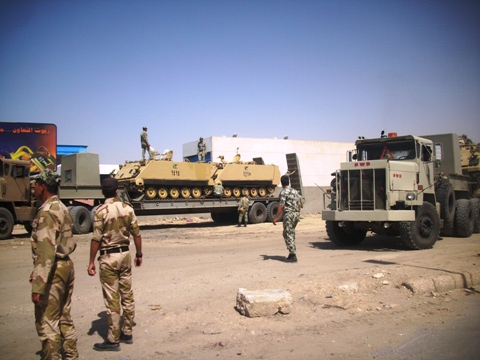 The Egyptian army sent reinforcements to the Sinai Peninsula on Monday - Aswat Masriya
Egyptian security sources denied killing a gunman in an airstrike in northern Sinai, saying that the security forces mistakenly fired on a funeral during a sweep search for the security personnel who were kidnapped on Thursday.
A state-owned news channel has reported earlier that a gunman was killed during the military operation conducted to free the seven kidnapped security officers.
The security forces opened fire on a funeral convoy of an 11-year-old boy, mistaking they convoy to be one that belongs to Islamist militants. The mourners fled and left the dead body behind, which made the forces believe they had killed a gunman.
The security officials returned the dead body, offering an apology to the dead boy's family.
An eyewitness told Aswat Masriya that the people in Sinai avoid large gatherings because of the current events.