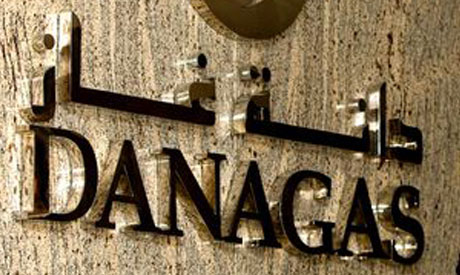 Dana Gas - Photo from Ahram Online
ABU DHABI, Nov 27 (Reuters) - United Arab Emirates-based Dana Gas said it was in talks with the Egyptian government to secure a higher price for some of the natural gas it extracts, as the North African country moves to encourage investment in energy.
Steadily declining gas production and foreign firms' wariness about any increase in investment have combined with price subsidies and rising consumption to create Egypt's worst energy crisis in decades.
Cairo has begun negotiating with international energy firms including Italy's Eni and Germany's RWE DEA, to raise the price it pays them for gas, particularly when prices are not high enough to cover the costs of production.
"Our existing concession agreements in relatively low-cost environments onshore don't fall into that category, but we do have some shallow gas in our existing onshore assets which probably do fall into that category," Dana Chief Executive Patrick Allman-Ward told Reuters on Thursday on the sidelines of an investment event.
Dana Gas currently receives a fixed price of $2.65 per million British thermal units (mmBtu), but Allman-Ward said that under its existing concession agreement, there was a provision to increase the price if it was not commercially viable.
The government also has begun to address payment problems in the energy sector. The oil ministry said earlier this month it hoped to repay the $4.9 billion it owes to foreign oil and gas companies within six months.
Dana Gas received one payment in the fourth quarter in the form of a cargo swap, and it expects to get further cash when the government allocates the next tranche of money to repay oil firms, Allman-Ward said, declining to give further details.
The Abu Dhabi-listed firm is still owed $276 million, of which $160 million is overdue for payment, he said.
Production in the fourth quarter is expected to be stable at around 70,000 barrels of oil equivalent per day (boepd), Allman-Ward said. Dana produced 68,700 boepd in the third quarter.
Dana Gas has operations in Egypt, the United Arab Emirates and Iraq's Kurdistan region.
(Reporting by Maha El Dahan and Stanley Carvalho; Writing by David French; editing by Jane Baird; editing by Susan Thomas)