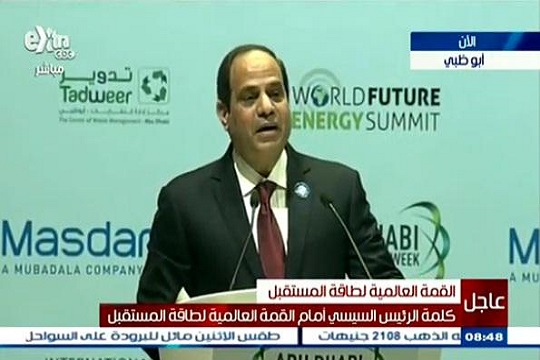 Screen grab of the World Future Energy Summit in Abu Dhabi, where Egyptian president Abdel Fattah al-Sisi delivered the keynote speech, on January 19, 2014.
CAIRO, Jan 19 (Aswat Masriya) – President Abdel Fattah al-Sisi said on Monday that Egypt aims to become "a global hub for energy trading" during his speech at the World Future Energy Summit in Abu Dhabi.
The president arrived in the United Arab Emirates on Saturday night for a two-day visit, where he met with the president, Sheikh Khalifa bin Zayed Al Nahyan.
Sisi stressed in the keynote speech he delivered at the summit the importance of diversifying the traditional sources of energy and improving their efficiency, as well as encouraging investment in the field of exploration.
The president said that building a proper infrastructure is integral to becoming an energy trading hub, noting that this includes the new Suez Canal Development Project.
Egypt launched a mega project in August last year which entails digging a 72-km (45-mile) bifurcation to the Suez Canal as well as developing the Suez Canal region.
Sisi said the security of the Arabian gulf is a "red line", adding that Egypt considers the gulf's security an "integral part its [Egypt's] national security."
Egypt's president applauded the UAE's efforts in "combating terrorism and aborting attempts to threaten national security."
The summit started on Monday and is scheduled to last until Thursday. Representatives of 151 countries are attending the energy summit, as well as representatives from the European Union.
Since the summer of 2012, Egypt has been facing its worst energy crisis in years, with power outages on the rise. Power cuts have specifically surged since the start of last summer.
Egypt began talks with several investors about building coal-fired power plants in November of last year, after the cabinet approved the industrial use of coal in April 2014 .
Producing renewable energy is among the recent projects Egypt's government has adopted to face the energy crisis the country is currently going through.