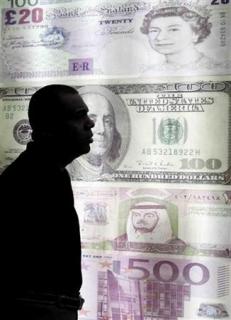 A man walks past a currency exchange office in Cairo - Reuters/Mohamed AbdelGhany
CAIRO (Reuters) - Egypt's Beltone Financial has received regulatory approval for a two-stage plan to raise up to 242 million Egyptian pounds ($33.85 million) to fund growth in its financial services businesses.
Egypt's stock market regulator said in a statement on Wednesday it had approved the fundraising.
Beltone's shares rose by 10 percent, prompting a brief suspension in trading.
The financial services company said it planned to raise 42 million pounds in the first phase by issuing free shares to existing shareholders instead of paying cash dividends.
In the second phase, it plans a rights issue to raise between 100 million and 200 million pounds.
Osama Rashad, Beltone's head of investor relations, told Reuters that the investment firm would invite shareholders to a general assembly on Nov. 23 to approve the capital increase.
With more than 200 staff, Beltone's activities include brokerage, asset management, investment banking and private equity operations. Foreign operations include offices in Dubai and London.
Beltone Chairman Aladdin Saba told Reuters in an interview last month his company planned to invest 300 million pounds next year to expand domestic operations because it believed the worst of the country's economic instability had passed.
Egypt's economy has been battered by three years of political upheaval since a 2011 uprising that toppled Hosni Mubarak after 30 years in power.
In July 2013, then army chief Abdel Fattah al-Sisi overthrew democratically-elected President Mohamed Mursi of the Muslim Brotherhood after protests against his rule.
Sisi went on to win a presidential election in May, pledging to restore stability, and his government has made a raft of long-awaited economic reforms that have helped to boost flagging investor confidence.
Beltone's earnings have slumped since last year, when they were inflated by one-off gains such as a property sale. Consolidated net income tumbled 84 percent from a year earlier to 11.0 million pounds in the first half of 2014.
Earlier this year, Beltone implemented a five-to-one share split to boost trading in its shares and widen its investor base.
Its shares were up by 9.71 percent at 18.30 pounds at 1321 (1123 GMT.)
(1 US dollar = 7.1500 Egyptian pound)
(Reporting by Ehab Farouk, Writing by Lin Noueihed, Editing by Louise Heavens and Jane Merriman)