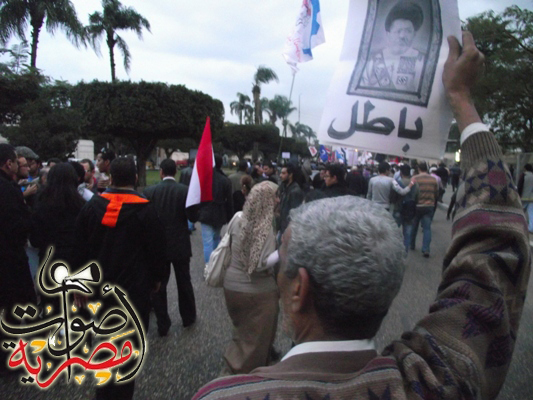 Anti-Mursi protesters gather around the presidential palace in Cairo December 4, 2012. Ahmed Hamed/Aswat Masriya
CAIRO, Feb 15 (Reuters) - An Egyptian opposition activist was found beaten and tied up in the desert near Cairo on Friday, four days after he went missing from a protest demanding the removal of President Mohamed Mursi, a security source and a fellow campaigner said.
Ibrahim Hanafi, who was rescued and treated for bruises on his back, had been working with the Freedom Front for Peaceful Change, collecting evidence of what he saw as "violations" by Islamist politicians, said the group's general coordinator Essam El Sharif.
"Our colleagues in the movement and the police found him tied to a tree, naked and bound with a letter that carries threats ... against anyone who talks (negatively) about the Brotherhood," he added, referring to the Islamist Muslim Brotherhood group that propelled Mursi to power.
A Muslim Brotherhood spokesman said the group had nothing to do with Hanafi's beating, or any involvement in other "indecent cases".
Opposition groups say a number of campaigners have been attacked in recent months after criticising the Islamist-led government that came in after the revolt that ended decades of rule by strongman Hosni Mubarak.
Tensions have risen in Egypt in recent weeks with frequent clashes between riot police and protesters opposed to Mursi, who the opposition accuses of hijacking the revolt and seeking to monopolise power.
Around 60 people have been killed since late January in unrest touched off by the anniversary of the uprising against Mubarak.
Mursi's supporters and opposition groups organised rival rallies on Friday.
A security source confirmed Hanafi had been found beaten and bound, but did not say whether he had been tied to a tree or mention the letter. (Reporting by Asma Alsharif; Editing by Andrew Heavens)