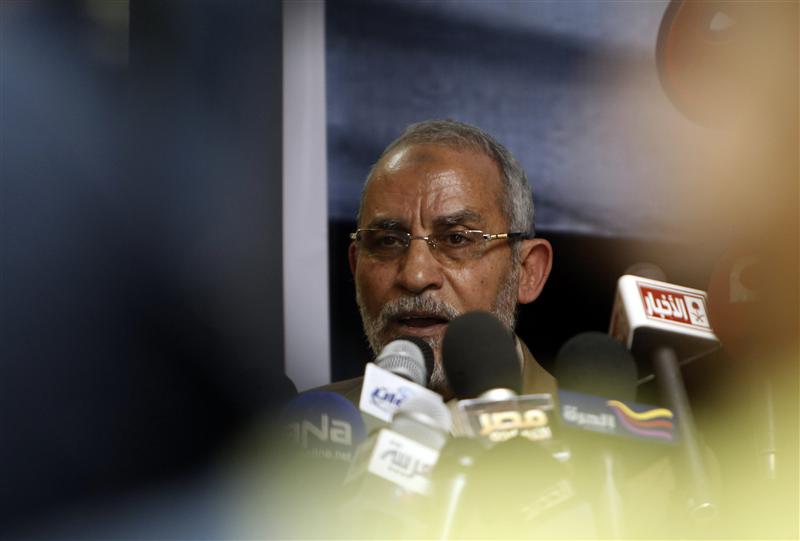 Spiritual Guide of the Muslim Brotherhood Mohamed Badie - Reuters
By Shadia Nasralla
CAIRO, Sept 23 (Reuters) - An Egyptian court on Monday banned any activity by ousted President Mohamed Mursi's Muslim Brotherhood and ordered its funds seized, a significant strike in the campaign to crush the Islamist movement.
The case was brought by a lawyer from the leftist Tagammu party on the grounds of protecting Egyptians from violence. It was not stated if he was acting at the instigation of the army-backed government.
"The court bans the activities of the Muslim Brotherhood organisation and its non-governmental organisation and all the activities that it participates in and any organisation derived from it," presiding Judge Mohammed al-Sayed said in a ruling.
He also ordered the government to seize the Brotherhood's funds and administer its frozen assets.
The ruling did not specifically mention the Brotherhood's political wing, the Freedom and Justice Party. But the move effectively outlaws the movement, which has seen hundreds of its members killed and thousands arrested since the army overthrew Mursi in July.
The decision also raises the possibility that some Brotherhood members will lose faith in peaceful resistance and take up arms against the government.
The Brotherhood emerged from the shadows to win parliamentary and presidential elections after veteran autocrat Hosni Mubarak was overthrown in 2011.
But many Egyptians became disillusioned with Mursi after he gave himself sweeping powers and mismanaged the economy, taking to the streets in protest.
Following Mursi's overthrow, the Brotherhood organised rallies demanding his reinstatement, prompting the fiercest campaign against it by security forces in decades.
The government accuses the Brotherhhood of inciting violence and terrorism.
RESILIENT
The Brotherhood has been forced to hold smaller protests to avoid antagonising the security forces. Brotherhood lawyers, who have been trying to get members out of jail, say they too fear arrest.
Security forces killed hundreds of its supporters in raids on their Cairo protest camps in August and rounded up thousands more, including many leaders, among them Mursi.
Brotherhood veterans said it is increasingly difficult to persuade young members, who are likely to be infuriated by the court decision, to resist using force against the state.
Egyptian human rights activist Gamal Eid questioned the wisdom of the court's decision, saying it could backfire.
"With an eye to the future, you will see the ruling is wrong. It will make them work in the darkness," he said on social media. "It will make the Brotherhood continue practicing violence and hate speeches."
The Brotherhood has proven resilient throughout its 85-year history.
Egypt's army rulers formally dissolved the Brotherhood in 1954 and its has survived repression under various strongmen, relying on its funds and social charity networks to become the country's biggest political party.
Though formally outlawed under Mubarak, the Brotherhood was grudgingly tolerated for much of his presidency, taking part in parliamentary elections.