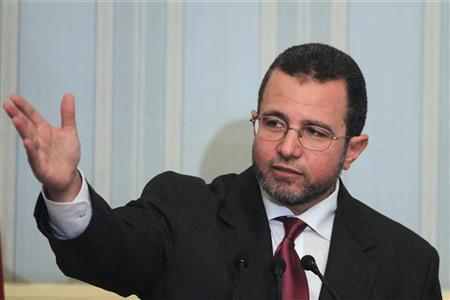 Prime Minister Hisham Kandil - Mohamed Abdel Ghany/Reuters
Egyptian Prime Minister Hisham Kandil has said that amendments to laws of political rights and parliament are on top of the draft bills that the cabinet will refer to the Shura Council (upper house of parliament) after it is done discussing them on Sunday.
Kandil added in a press conference with President Mohamed Mursi and the new cabinet on Sunday that the draft bills would be presented to the Constitutional Court first to ensure that they are in agreement with the new constitution.
Participants of the "national dialogue" agreed on Tuesday on a new parliamentary elections law, referring it to the Justice Ministry to review it before sending it to the Shura Council.
Kandil said that the new law guarantees transparency and equal opportunity, reported the Middle East News Agency.
He added that the new cabinet will begin in its new formation to take steps towards democratic progress in light of the adoption of the new constitution.
Kandil insisted that the challenges that are facing Egypt require the support of everybody to overcome this critical period, pointing that the government is determined to reach out to all forces.