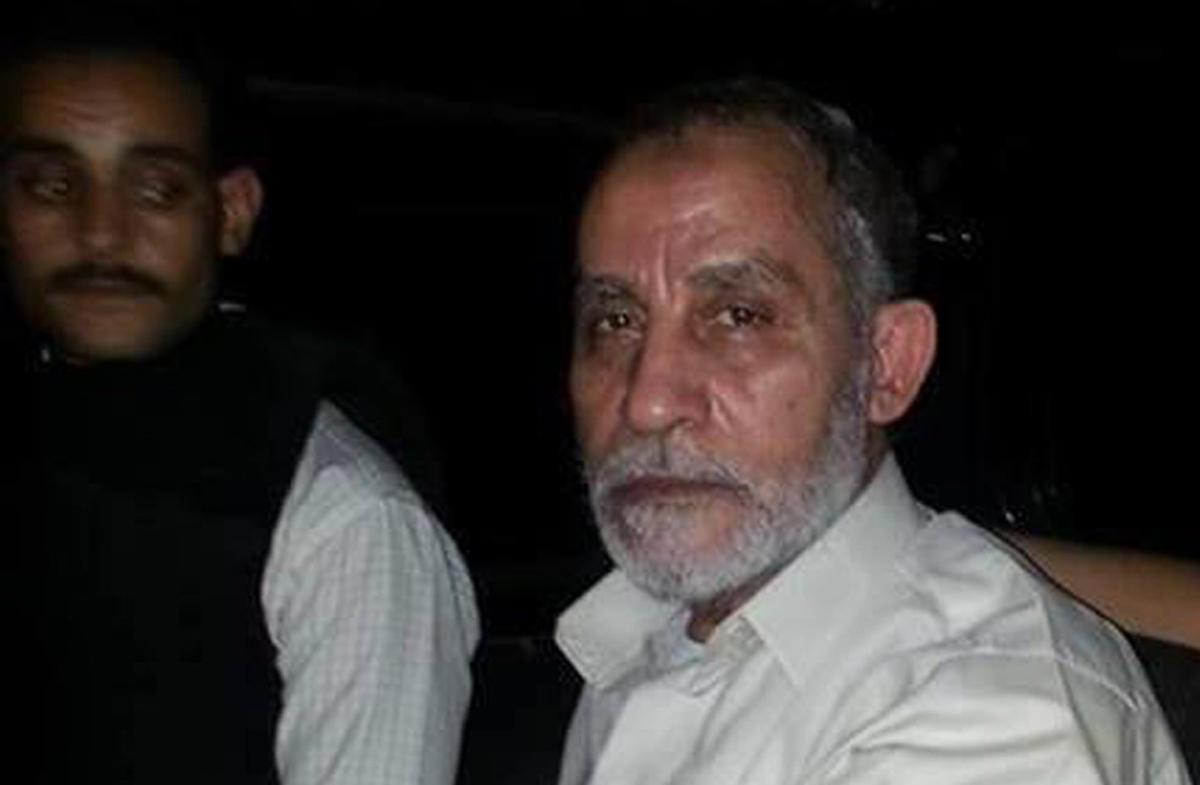 Muslim Brotherhood leader Mohamed Badie (R) sits in a police vehicle after being arrested by security forces in Cairo, in this Egyptian Interior Ministry handout picture provided on August 20, 2013. Interior Ministry/Handout
CAIRO, Nov. 8 (Aswat Masriya) - An Egypt court has officially endorsed a decision to place 18 Muslim Brotherhood members on a "terrorist list", in a case mired in legal labyrinths as judges and prosecutors begin applying recent counter-terrorism legislation attempting to define terrorism and terrorist entities.
Published in the official gazette Sunday, a court ruling by an Egyptian criminal court in September listed the Muslim Brotherhood's Supreme Guide Mohamed Badie and 17 other group leaders on the state's inventory of terrorists for three years, in what is reminiscent of a decision issued in March placing the same 18 people on the terror list.
However, there are differences between the two decisions.
In March, assassinated prosecutor general Hesham Barakat had placed the 18 on a terror list, applying for the first time a law that had been in place for a little over a month.
The legislation, printed in the state's official gazette on February 24, and signed by President Abdel Fattah al-Sisi regulates how to list people and organisations on two separate terror lists.
As per the anti-terrorism legislation, the prosecution must prepare two lists, one where individuals are named and another for organisations. The list specifying names must be initiated by the state's top prosecutor and reviewed by a special criminal judicial circuit at the Cairo Court of Appeals.
When the prosecution placed the 18 on the terror list in March, the prosecutor's office claimed that their inclusion on the list was based on a final court verdict issued against them for committing deadly acts of violence outside the Muslim Brotherhood's headquarters in 2013. The Brotherhood has since been designated a terrorist group.
However, days ahead of the court verdict in September, the Court of Cassation (the final court of appeal) had cancelled the top prosecutor's decision after viewing it in an appeal.
In a detailed ruling released later, the Court of Cassation said that Barakat's decision is "null and void". The court said the prosecution's decision cannot be viewed in court and that the prosecutors had committed a legal error by placing them on the terror list, a move that is not within their jurisdiction.
The court added that the prosecution did not apply the law, which restricts its role to preparing the two lists, only upon a court ruling placing people or organisations on those lists.
Yet, the Cassation Court's cancellation did not last long because of the criminal court's decision on September 16. The names of all 18 appear in the state's official gazette, as stipulated in the law once names are placed on the list.
Other than Badie, the Brotherhood's first in command, other group leaders affected by this decision include Khairat al-Shater and Rashad Bayoumi, ex-supreme guide Mahdi Akef and leading Brotherhood figures Saad al-Katatni, Essam El-Erian and Mohamed El-Beltagy.
An individual placed on this terrorist list are also put on a travel ban list. If the individual is a foreigner, they are banned from entering Egypt.
Individuals listed as terrorists would also have their passports seized and would be prevented from issuing new passports, as per the law.
Since the July 2013 military ouster of then-president Mohamed Mursi, Muslim Brotherhood leaders and prominent figures have often found themselves behind bars facing what human rights groups have described as show trials that are politically motivated and lack due process. Mursi himself was handed a death sentence which he can appeal.
Egypt listed the Brotherhood as a terrorist organisation in December 2013 and insists it is behind the wave of militancy which has targeted security personnel since July 2013.
The Brotherhood continuously denies the accusations.
In an interview with BBC ahead of a state visit to the UK last week, Egypt's President Sisi who had led the Islamist president's ouster, said that the hundreds of people sentenced to death for their involvement in unrest surrounding the overthrow of Mursi, are "unlikely to be executed because they were either convicted in absentia or have recourse to an appeals process."
The comments sparked controversy as Sisi had previously stated his intention to "wipe out" the Muslim Brotherhood if he is elected.