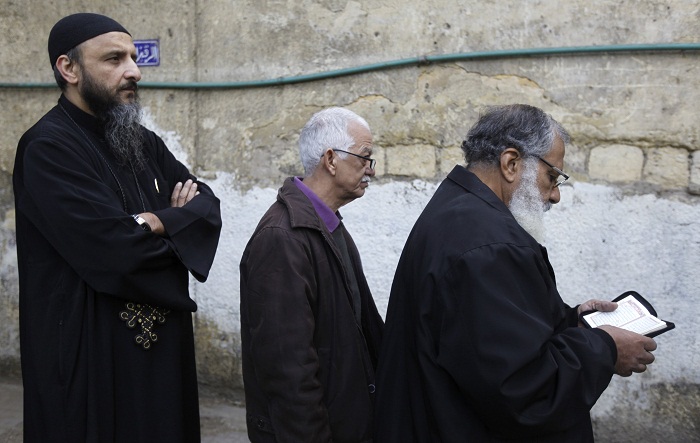 A Muslim man reads the Koran (R) as he stands in line with a Coptic Christian wearing a cross (L) while queuing outside a polling centre to vote during a referendum on the new constitution of Egypt in Cairo December 15, 2012. REUTERS/Amr Abdallah Dals
Egypt's Judges Club received on Saturday 430 complaints on the voting process, 60 of which were related to the absence of judicial supervision over some poll stations, Mohamed Abdel Hadi, undersecretary of the club's media committee and member of its operations room for monitoring the process, said.
The refusal of most judges to oversee the voting process is proof that the number of judges overseeing the referendum is not proportional to the size of the process and the number of poll stations, Abdel Hadi told CBC channel.
Complaints about the absence of judicial monitoring at some poll stations are currently being investigated.
Abdel Hadi criticized the participation of "Judges for Egypt" movement in overseeing the referendum, adding that this conflicts with a judge's objectivity.
The movement had praised the constitution and is at the same time overseeing the voting process although the judge who voices his opinion in a dispute should not rule on it, he added.