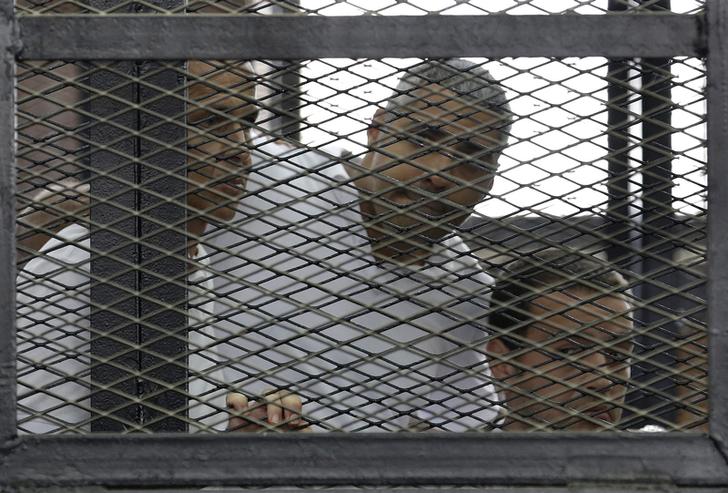 Peter Greste, Mohamed Fahmy and Baher Mohamed (L-R) listen to the ruling at a court in Cairo June 23, 2014. REUTERS/Asmaa Waguih
By Rana Muhammad Taha
CAIRO, Dec 17 (Aswat Masriya) – Egypt was listed as one of the deadliest countries for journalists in 2014, as media watchdogs highlighted the country's numerous violations against journalists in annual reports published on Tuesday and Wednesday.
The New York-based Committee to Protect Journalists (CPJ) listed Egypt as one of world's 19 deadliest countries for journalists in its annual report on killed journalists this year, released on Wednesday.
Mayada Ashraf, a female journalist working for a private daily paper, was killed on March 28 while covering protests of Muslim Brotherhood supporters in Cairo.
At least 10 journalists have been killed in Egypt since the 2011 uprising, nine of whom died on the field, according to CPJ statistics.
The CPJ's annual census on imprisoned journalists also found Egypt among the top 10 jailers of journalists in 2014.
"Egypt more than doubled its number of journalists behind bars to at least 12, including three journalists from the international network Al-Jazeera," the group said.
A criminal court sentenced three journalists from Qatari news network Al Jazeera to seven years in prison on June 23 on charges of defaming Egypt and spreading false news in the case known as the "Marriott Cell".
The three defendants are Australian award-winning journalist Peter Greste, Egyptian-Canadian former BBC producer Mohamed Fahmy and Baher Mohamed. The latter was sentenced to an additional three years for arms possession.
Several human rights organisations and journalists have criticised the verdict. The United Kingdom and Netherlands both summoned the Egyptian ambassador to protest against the "disappointing" verdict.
"CPJ believes that journalists should not be imprisoned for doing their jobs," the organisation said on Wednesday. "The organisation has sent letters expressing its serious concerns to each country that has imprisoned a journalist."
Egypt ranked second on a list prepared by Reporters Without Borders (RWB) of countries which frequently arrested journalists in 2014.
The France-based watchdog said Egypt arrested 46 journalists this year alone, for reasons such as "being Muslim Brotherhood sympathisers, endangering national unity or inciting violence or riots."
In its annual round up on violence against journalists, released on Tuesday, RWB also ranked Egypt as the fourth on its list of countries imprisoning journalists in connection with their work. Egypt has imprisoned 16 journalists this year, making up nine percent of professional journalists imprisoned worldwide, according to the report.
CPJ reported the death of 54 journalists with "confirmed motive" worldwide this year, with Syria remaining the world's deadliest country for reporters. Fifteen journalists were killed in Syria alone.
Fifteen more journalists were killed worldwide in 2014, yet with "motive unconfirmed", the CPJ said.
The watchdog counted 220 journalists in jail in 2014.
"The tally marks the second-highest number of journalists in jail since CPJ began taking an annual census of imprisoned journalists in 1990," CPJ said. It added that the tally "highlights a resurgence of authoritarian governments in countries such as China, Ethiopia, Burma, and Egypt."
China was named the world's biggest jailer, keeping 44 journalists in jail.