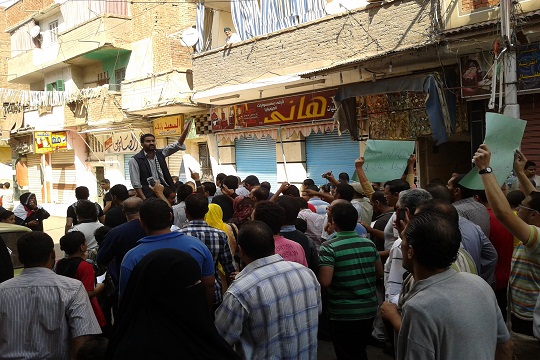 (Archive) Protests in Kafr al-Sheikh on October 12, 2012 - Aswat Masriya
Egypt's Central Security forces arrested six protesters in Kafr El-Sheikh on Tuesday following scuffles that happened overnight.

Scuffles erupted between the security forces and protesters on Monday, leaving 16 of the security forces injured, as the protesters threw bricks at them causing minor head wounds.

An eyewitness told Aswat Masriya that the scuffles resulted in torching an armored vehicle after the protesters threw Molotov cocktails at it.

The protesters tried to storm the state office of the province of Kafr el-Sheikh and prevent the Governor of Kafr sl-Sheikh and member of the Muslim Brotherhood Saad al-Husseini from leaving but the security forces used teargas to disperse them.
The scuffles left around 112 protesters injured and many more suffered from suffocation because of the teargas.

Meanwhile, dozens from the Popular Current youth cut on Monday the international Blatim road which connects Kafr al-Sheikh to Baltim.

The protesters lit tires and placed wood and stones midway whilst chanting "Down, down with the rule of the Guide", referring to the Muslim Brotherhood leader.