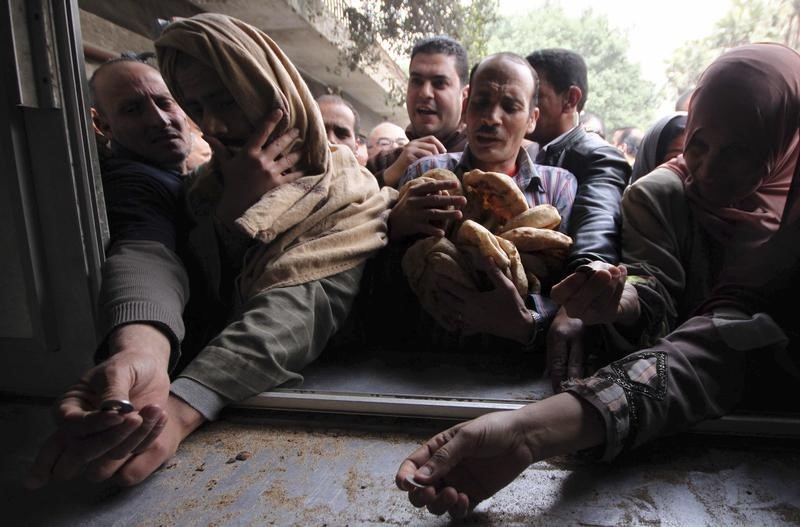 People queue for bread at a bakery in Cairo March 2, 2014. REUTERS/Al Youm Al Saabi Newspaper
CAIRO, Oct 8 (Aswat Masriya) - Food prices have jumped in September to reach the biggest monthly increase in five years, EFG Hermes Holdings said in a research paper on Thursday.
The surge was driven by a rise in vegetable prices, the Egypt-based investment bank and market analysis group said.
Egypt's urban consumer inflation jumped to 9.2 percent in September from 7.9 percent in a record low in August, according to the monthly release by official statistics agency CAPMAS.
The 2.8 increase is the highest monthly increase rate since July 2014 and was attributed to a 19 percent hike in vegetable prices, among other factors.
In the past two months, the price of vegetables rose 26.4 percent, Hermes said.
Inflation rates in Egypt will be impacted by the value added tax that Egypt aims to introduce before yearend, Hermes said. The group projects that inflation will rise by 1.5 to 2.5 percent when the tax is introduced.
Egypt's Planning Minister Ashraf al-Araby told Aswat Masriya last month that Egypt will witness "inflation pressures and an increase in prices" but added that these pressures will be eased through control over nominal increases of government wages.
Observers expect a hike in inflation rates this year in light of an expected depreciation of the Egyptian pound against the dollar in the official market, plans to introduce value added tax and the government's plans to implement a sweeping energy subsidy restructure.
The Egyptian government has projected an inflation rate between 10-11 percent in the fiscal year 2015/2016, forecasting a drop to 7-8 percent by 2018/2019.
Last month, the Arab Monetary Fund said inflation in Egypt is expected to rise from 11 percent in 2015 to 11.5 percent in 2016, compared to a regional average of 7.4 and 7.8 percent respectively.
The report explains that the rise in inflation is due to the removal of subsidies on energy products, impacting transportation costs and food commodity prices, which represent 40 percent of the Consumer Price Index.

It also attributes the rising inflation to shortage in supply of foreign currency along with the government's depreciation policy, further weakening the Egyptian pound.
President Abdel Fattah al-Sisi's administration reduced petroleum subsidies and introduced new taxes in July 2014, hiking fuel prices by up to 78 percent. This was part of a government plan that aims to eventually lift fuel subsidies completely in the coming few years.
Years of political turmoil have taken a toll on Egypt's economy, halving the state's foreign reserves and driving away tourists.
Sisi's administration has focused on attempting to repair the economy via mega projects such as the "New Suez Canal."