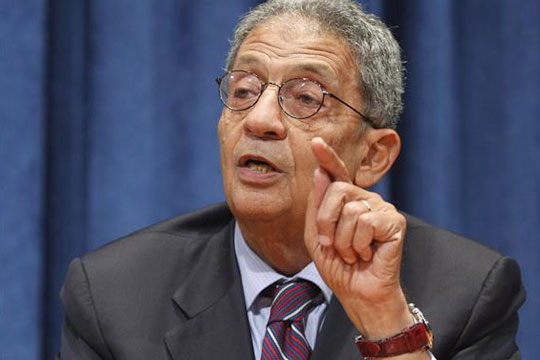 Potential presidential candidate Amr Moussa - photo from REUTERS
Former Arab League secretary general and ex-presidential candidate Amr Moussa has called for the prosecution of the Azhar Sheikh who issued a fatwa legitimizing the killing of protesters of August 24.

A number of liberal forces have called for anti-Muslim Brotherhood demonstrations on Friday, August 24.

The demonstrations will also express rejection to Egypt's newly-elected Islamist President Mohamed Mursi.

On Twitter, Moussa described the fatwa as "rotten" and "ignorant", considering it incitement to crime, and calling for the Sheikh responsible for it to be prosecuted immediately.

Moussa urged the public to revolt against the controversial fatwa as it clearly violates the rights of peaceful protesters.

Describing anti-Muslim Brotherhood protesters as "infidels", Azhar Sheikh, Hashem Islam, issued the fatwa on Wednesday.