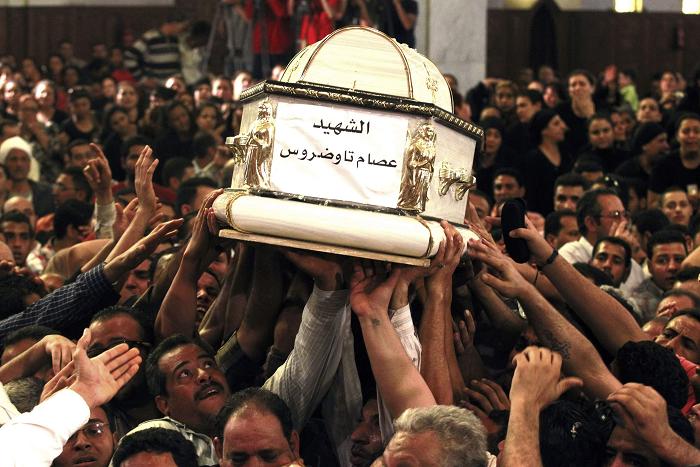 Coptic Orthodox Christians carry the coffins of men who died in clashes between Muslims and Christians in El Khusus north of the Egyptian capital, during their funeral at the main cathedral in Cairo April 7, 2013. REUTERS/Mohamed Abd El Ghany
Several Egyptian human rights organizations expressed concern over the increasing sectarian violence targeting Christians since the ouster of President Mohamed Mursi, in a statement issued Wednesday.
The non-governmental organizations (NGOs) strongly condemned the discourse of the Muslim Brotherhood and its allies toward Christians that holds a "clear incitement to violence and employment of religious hatred in order to achieve political gains."
The 16 signatory NGOs to the statement also denounced the failure of state institutions to provide the necessary protection to Christian citizens, criticizing them for not "decisively confronting the sectarian attacks or enforcing the law by holding those responsible for violence to account."
The statement referred to incidents in Northern Sinai where a large number of Christians had been displaced following continual threats to their lives, as they had been a target for killings and kidnappings.
The statement also recounted that churches in Sinai have been closed most of the time for fears of attacks, as they are not provided sufficient protection by the security forces.
The NGOs said that there was a pattern of impunity throughout the pre-uprising era as well as during the rule of the Brotherhood that continues to date, despite the ouster of two regimes.
The statement also referred to the most recent sectarian confrontations in Minya's Beni-Ahmed village, saying that the security forces had clearly refrained from intervening to end them.
The clashes, which erupted Saturday, left seven homes torched and five vehicles destroyed, along with a kiosk, a coffee shop, two supermarkets and a pharmacy, all belonging to Christians.
The statement decried "the negligence of the security forces which only intervened two hours after the clashes erupted," saying that despite their securing of the town's church, they neglected to prevent attacks on private property.
The NGOs urged the state prosecution to carry out its duty in bringing the perpetrators of sectarian crimes to trial, while emphasizing the need to provide adequate protection to witnesses of these crimes.
They also demanded that Islamist groups reject violence, put an end to all forms of speech that incite to religious hatred and condemn those involved in such acts.
The statement also called for urgent impartial investigations into such incidents.
The statement was signed by the Cairo Institute for Human Rights Studies, Andalus Institute for Tolerance & Anti-violence Studies, Arab Penal Reform Organization, Arabic Network for Human Rights Information, Association for Freedom of Thought and Expression, Egyptian Initiative for Personal Rights and Nazra for Feminist Studies among other organizations.