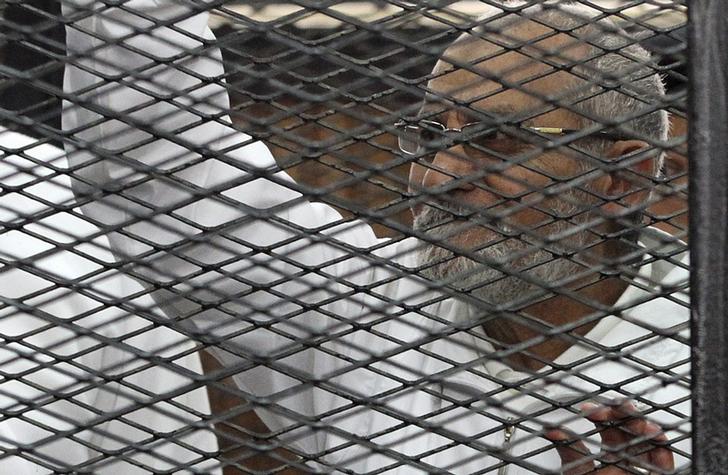 Muslim Brotherhood leader Mohammed Badie looks on from the defendants cage during his trial with other leaders of the group in a courtroom in Cairo December 11, 2013. REUTERS/Stringer
CAIRO, June 22 (Aswat Masriya) Egypt's public prosecutor Hisham Barakat has appealed the death sentences handed to 183 Muslim Brotherhood leaders on Saturday.
Barakat also appealed the life sentences and acquittals.
"The prosecution will challenge all of the sentences, whether the acquittals, the death sentences or the prison sentences to ensure a fair process and rightful application of the law," a statement from the prosecution's office said on Sunday.
According to Egyptian law, the general prosecution is compelled to appeal all harsh sentences.
A court sentenced Muslim Brotherhood leader Mohamed Badie and 182 others to death on Saturday over violence that occurred in the southern governorate of Minya last year.
The court also sentenced four to life and acquitted 496 people on Saturday.
The defendants were charged with assembling, threatening national security to carry out criminal acts such as attacking persons, vandalizing public and private property and preventing the authorities from attending to their duties with force and violence.
They were also charged with arms possession, murder and attempted murder.
The Muslim Brotherhood was declared a terrorist group towards the end of last year in response to reoccurring violence that followed that ousting of President Mohamed Mursi last July.