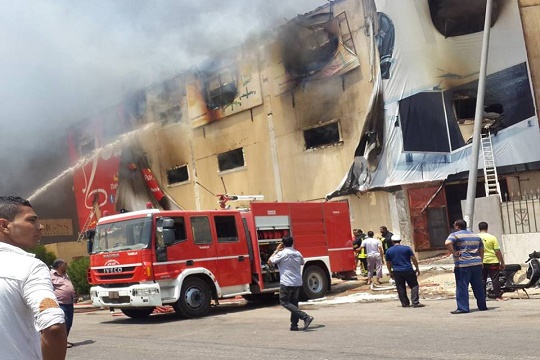 A furniture factory caught fire in Qaliyubia, northeast of Cairo, on Tuesday, July 28, 2015. ASWAT MASRTIYA/Stringer
CAIRO, Jul 30 (Aswat Masriya) - The death toll from a fire which broke out in a furniture factory in Qaliyubia, northeast of Cairo on Tuesday rose to 26 on Thursday, a Health Ministry official said.
A female worker in the factory died on Thursday due to wounds sustained during the fire, said Mohamed Lashin, a Health Ministry official in Qaliyubia.
Only four of the 22 injured in the fire remain hospitalised in Cairo, Lashin said.
Egypt's prosecution jailed the factory's director and his deputy for four days pending investigation. They are accused of murder, causing the fire, and failing to abide by standards for occupational safety.
The prosecution has also issued an arrest warrant for the owners of the factory.
The fire erupted after a butane cylinder exploded while a lift in the factory was being fixed, a security source said. He added that there were no emergency exits in the factory, which made it difficult to save those inside.